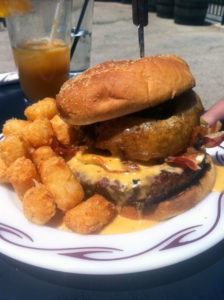 In case you haven't noticed, people from Milwaukee love cooking with beer. Back in April I held a contest to see who could make the best grilled cheese sandwich and the winner (from Milwaukee) used Schlitz and Pabst as part of his recipe. A couple weeks ago I wrote about the Napoleon Dynamite from Cafe Centraal; a pile of pancakes layered with bacon, two eggs and a Belgian beer cheese sauce. Most recently I stopped at Stonefly Brewery for brunch and tried the Brunch Burganator.
What is the Brunch Burganator you ask? Well, it's a Black Angus patty topped with bacon, a fried egg, onion rings and you guessed it, beer cheese sauce. I'm sure there are plenty of other cities out there that use beer when it comes to cooking, but I can't imagine that any of them use it as much as Milwaukee does.
In addition to chowing down on this delicious burger I also discovered what could easily become my new favorite brunch drink; the Rise N' Shine. The drink includes Emergen-C, vodka, orange juice, cranberry juice and a splash of soda. Maybe it was just the fact that I went to see Mötley Crüe and Poison the night before and might have had a little too much to drink during the show, but the Emergen-C in the Rise N' Shine definitely helped me get back on my feet on this sunny Sunday morning.