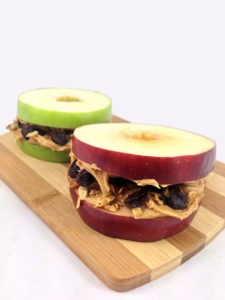 Bad news…. Well, good news for my body, but bad news for my blog. DudeFoods.com is going healthy!
This past week I visited my doctor for a routine check-up and apparently all these years of unhealthy eating have finally caught up to me. According to him my cholesterol is "off the charts," and the rest of my vitals didn't test too well either.
Basically what it comes down to is that eating things like 4,300 calorie Bacon Double Cheeseburgers and Bacon Weave Breakfast Burritos isn't exactly good for you. Huh… Who would have known….
The problem is, I don't want to stop blogging, so as a compromise I've decided to turn DudeFoods.com into a healthy living blog. In fact, I'm even working on a new logo! Here's what I've got so far:


I've also got my first healthy recipe for you guys! If you're looking for a delicious and filling snack check out these Peanut Butter & Granola Apple Sandwiches. The best part about them — aside from how delicious they are — is that they're extremely easy to make. All you need to do is slice a couple apples, cut out the cores, spread peanut butter on them and then sprinkle them with granola. If you're feeling extra crazy you can even add some raisins to your sandwiches like I did!
Now, I'm sure this whole eating healthy thing is going to take some getting used to, so if you know of any great, healthy recipes send them my way! In the meantime I'll continue posting recipes as well, but I'm going to be honest, eating healthy isn't exactly my forte.