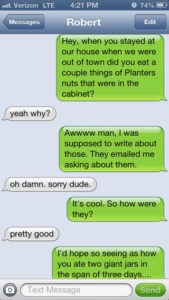 A while back Planters sent me two new varieties of their dry roasted peanuts — Planters Honey BBQ and Planters Roasted Onion & Garlic — to try. Previously I've used nuts that they've given me to make Pumpkin Spice Almond Crusted Chicken Strips and Bacon & Almond Pumpkin Spice Pancakes.
I planned to try and turn these new dry roasted peanuts into something equally as DudeFoods worthy, but then I put them in my kitchen cabinet and honestly, just sort of forgot about them. A few weeks later my wife and I went on vacation and her brother Robert stayed at our house to watch our two dogs.
About a week after we arrived back home I received an email from Planters asking me if I'd had a chance to try the nuts yet and I replied that I still hadn't, but that I'd give them a taste and then write something about them. The only problem was that I couldn't find them anywhere. I literally took every single thing out of our kitchen cabinets to search for the peanuts that they sent me. I just about went nuts trying to find those nuts!
After looking everywhere I decided to send a text to Robert just to see if maybe he had eaten them, and as it turns out he did. So, while I can't show you some crazy new creation using Planters Honey BBQ and Planters Roasted Onion & Garlic Dry Roasted Peanuts I can let you know that according to my brother-in-law they're "pretty good."