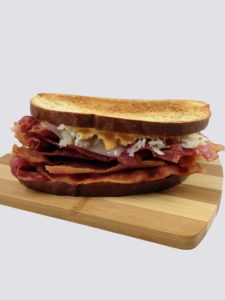 Now that April Fool's Day is over with we can finally get back to business! I ate a LOT of Reuben sandwiches on and leading up to Saint Patrick's Day this year. After it was over I was actually pretty sick of them. The problem though is that I still had half a loaf rye bread sitting at home on my counter and some Swiss cheese, Thousand Island dressing and sauerkraut in my refrigerator.
Now, I've never been one to waste food, so I wasn't just going to throw all those leftovers away. Instead, I swapped out the corned beef that you normally find in Reuben sandwiches with the one thing that I always have on hand — bacon!
As I recently figured out when I used bacon instead of tortilla chips while making nachos, bacon makes a great substitute for pretty much anything, and with this Reuben it was no different! Yeah, I know, I could have used turkey instead of corned beef like some restaurants do, but I didn't have any of that on hand either. Plus, for as much as I like turkey if the choice is there between that and bacon I'm going to pick bacon pretty much every single time.
Overall my Bacon Reuben was pretty amazing. I wouldn't necessarily choose it over a traditional Reuben in most cases, but when you're sick of corned beef it's clearly the next best thing.