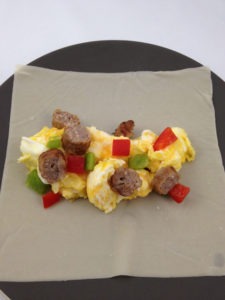 So I like egg rolls, and I like scrambled eggs, but one thing I've never had in my life is an egg roll stuffed with scrambled eggs. Seeing as how I own a deep fryer now though I figured I should finally turn my dream into a reality and make a few breakfast egg rolls.
I started off with three egg roll wrappers and filled them each with some scrambled eggs, shredded Cheddar cheese, some chopped up maple syrup flavored breakfast sausages and some diced red and green bell peppers. After that I wrapped each one up nice and tight and tossed them into my deep fryer. After about five minutes in 375 degree oil my egg rolls were golden brown and ready to eat!
The breakfast egg rolls ended up tasting great and in the future I'd love to try experimenting with different fillings like bacon and hash browns. Substituting the egg roll wrappers for something like a thin pancake or crepe wrapped around the filling instead might be kind of cool too. Regardless of what I come up with next you can be sure that I'll post about it here!