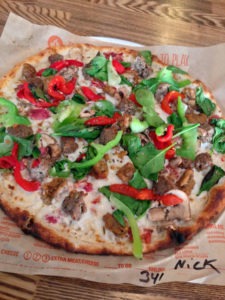 Last year I was in Las Vegas and ate at a pizza place called Project Pie that was sort of a pizza version of Chipotle or Subway. You start off with fresh pizza dough and go down the line as one of their employees adds as many toppings as you want to your pizza.
That wasn't the unique part about Project Pie though. What was great about it is that after you cover your pizza with toppings they throw it into their 800° oven, which cooks it in three minutes flat. It's genius really. The worst, and really the only bad thing at all about pizza is waiting for it to cook, but with a place like this you don't have to. Recently, a chain called Blaze Pizza —  which follows a similar concept — opened up a location here in Milwaukee and invited me in for a couple free pizzas.
Like Project Pie, Blaze Pizza also has a list of signature pies you can choose from if you're not feeling too creative, all of which will set you back $7.45 for an eleven inch pizza. If you only want one topping plus cheese you'll only pay $5,85, and if all you want is cheese and sauce you'll pay is $5 for that same eleven inch pizza.
With the first pizza I ordered I decided to go with the build-it-yourself option and I had them top my pizza with white sauce, crumbled meatballs, bacon, sausage, mozzarella cheese, red and green peppers, spinach and oregano. For my second pizza I opted for their Green Stripe pizza, which consisted of pesto drizzled over grilled chicken, roasted red peppers, chopped garlic, mozzarella and arugula.
Both pizzas were absolutely delicious, and a single pizza is easily enough to feed two people as long as you aren't super, super hungry. Actually, aside from myself I didn't even see a single other person ordering an entire pizza for themselves.
I said this in my original post about Project Pie and I'll say it again about Blaze — I absolutely love this idea. It's really the perfect lunch option, and if I didn't work so far away I'd probably be there at least once a week on my lunch break.