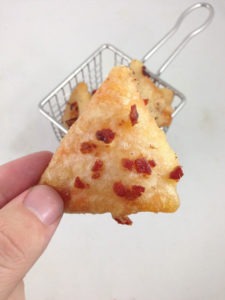 I work in an office and every single day I go out to lunch. More often than not I end up at Taco Bell. There really isn't any specific reason why I eat there so much, but that fact that it's crazy cheap and I can be in and out in about ten minutes probably plays a small part in it.
If you've been to Taco Bell any time within the past couple years you're probably familiar with their Meal Deal menu where for $2.49 you get either a Chicken Burrito, a Double Decker Taco, a Gordita Supreme or a Beefy 5-Layer Burrito plus a soda and a bag of Doritos. The weird thing about these deals is that the taco or burrito on its own along with a soda would already cost more than $2.49, so even if you don't want a bag of chips you might as well just order the meal and get one anyway.
That's my problem, I'm never in the mood for Doritos at lunch so I eat the rest of my food and then bring the bags of chips home where I toss them into my kitchen cabinet and sort of forget about them. Finally, after realizing that I had an entire cabinet full of snack size bags of Doritos I figured that it was finally time to do something with them, and that something involved a beer and bacon batter and my deep fryer!
For my beer and bacon batter I used the exact same recipe that I used when I made deep fried bacon and deep fried White Castle sliders, which pretty much just involves mixing equal parts flour and beer and then tossing in some diced bacon pieces. I was a little worried that the Doritos would lose their crunch after being deep fried, but they didn't seem to at all. The hot oil also caused the batter to expand around the chips a little bit, so they sort of ended up looking like little puff pastries.
There are some recipes where I know going in that they're going to turn out delicious, but this definitely wasn't one of them. In fact, I wasn't expecting too much from these deep fried Doritos at all, but they completely blew away my expectations. They tasted probably ten times better than I thought they would. I took a bite of one before I started taking pictures just to see how they were and before I knew it I'd finished five of them and had to stop myself from eating any more until I snapped a few photos first.
Seriously, is there a single food out there that isn't better after being deep fried? After realizing how great deep fried Doritos are I think I need to work on incorporating Doritos into a an actual batter. Imagine how great chicken strips or cheese curds would taste after being deep fried in a batter made out of crushed up Doritos!