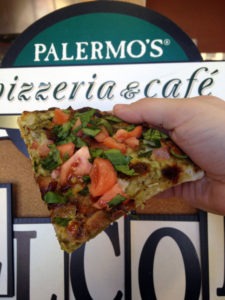 A couple weeks ago Qdoba let me come in to one of their locations, hop behind the counter and make whatever I wanted. The result was a pretty awesome seven layer quesadilla. After I posted the resulting story someone mentioned on Twitter how it was great public relations work on Qdoba's part to let a blogger like me come in and do something like that.
I sort of jokingly replied to the tweet that I needed to convince other companies to let me do the same thing and then said something like "Hey Palermo's, I'm looking at you!" Palermo's, for those of you who are unaware, is a really great pizza company who just happen to be headquartered right here in good 'ol Milwaukee. A few minutes after I sent my tweet they responded asking me when I wanted to stop down and make some pizza.
Rather than going the traditional DudeFoods route and saying "hey, I'm gonna grab as many toppings as I can and just use them all" I decided to try something a little crazy. I decided to try making a pizza that someone besides me and other people who like 25 cheese pizzas or pizzas with every single topping available might actually enjoy.
Palermo's already has over 40 different types of frozen pizzas, as well as a new specially pizza that they serve each week in their cafe, so coming up with something they haven't already done was a little tougher than I expected. In the end I decided to turn to one of my favorite sandwiches — the club — for inspiration.
Now that I finally had an idea of what type of pizza I wanted to make I grabbed a ball of dough and got to work. I started by flattening it out and covering it with a basil pesto sauce. Then I added some cheese, diced ham and turkey and some Nueske's bacon, because if you want quality bacon you've gotta go with Nueske's.
After sending my pizza through their conveyor pizza oven I finished it off by adding some lettuce and tomato and then sat down to enjoy the fruits of my labor, and enjoy them I did! The basil pesto sauce ended up working perfectly with the rest of the ingredients and in my opinion it's what really set this pizza apart.
For those of you looking for pizzas that are a little crazier than this one don't worry, I've got a couple pretty ridiculous ideas in my head that I hope to test out within the next few weeks. Until then though I'm pretty pleased with how good my basil pesto club pizza turned out. Thanks Palermo's!