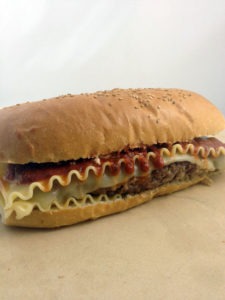 I eat a LOT of burgers and occasionally the traditional ground beef patty topped with Cheddar cheese, lettuce and tomato on a bun gets boring. It's times like these that I try to create something new burger-wise. In the past I've come up with things like the Bacon Weave Brat Burger and the Poutine Burger. This time I decided to try my hand at a lasagna-themed burger.
For the burger patty I used the same 50/50 mix of ground beef and ground Italian sausage that I used when I made my deep fried lasagna. I originally planned on grilling up a regular-shaped round patty and using two slices of Italian bread in lieu of a bun, but there's this great bakery here in Milwaukee called  Peter Sciortino's that makes the best hoagie style Italian rolls ever, so I decided to use one of those and make my burger into more of an oval shape instead.
I guess my bun choice and longer burger patty sort of made this into more of a lasagna sandwich than a lasagna burger, but when you have something this good sitting in front of you it's pretty pointless to debate something as trivial as what distinguishes something as a sandwich versus what makes it a burger.
Once my burger patty was done on the grill I topped it with mozzarella cheese and then assembled my sandwich by adding mozzarella cheese, a couple lasagna noodles, tomato sauce and some ricotta cheese. Then, just as sort of the icing on the cake I put the burger on a pizza stone and baked it in my oven for a few minutes.
Overall I was pretty pleased with how my lasagna burger turned out. The patty ended up weighing in at a little over a pound, which might have been a bit excessive, but then again it had to be long enough to fit on the hoagie roll. I mean, I guess I could have just eaten half of the burger and saved the other half for later, but where's the fun in that?