This was a recipe I originally created a few months ago for Jones Dairy Farm using their bacon — which is phenomenal by the way — but for some reason they never ended up posting it on their website, which was a total bummer since the meatloaf turned out pretty damn good.
On the plus side, they said it would be cool if I posted it here on DudeFoods, so I figured it would be a shame not to share it with you guys. I still ended up getting paid for the recipe as well, even though they didn't use it so technically I sort of just made a bunch of money to make and eat a two pound loaf of meat that was wrapped in bacon. All in all it was a pretty decent little Monday night!
What type of meat should I use?
I almost always use ground beef when I make this bacon wrapped meatloaf, but you could easily substitute ground pork, ground turkey or ground chicken as well. The only real issue with using ground chicken or ground turkey is that since they're a little more lean than ground beef your meatloaf won't be quite as moist as it would be otherwise.
What kind of bacon should I use?
That's totally up to you! If you use slices of bacon that are too thick you run the risk of it not ending up quite as crispy as you probably want it to be, so every time I make this recipe I always just use traditional, regular cut bacon.
Can I use turkey bacon?
Honestly, I've never been a big fan of turkey bacon, but if you like then by all means, go for it! Turkey bacon is fairly thin though so if I did wrap my meatloaf in turkey bacon I'd be a little worried about the bacon burning before the meatloaf was done cooking. Just keep an eye on it though and you should be fine!
Can you prepare meatloaf ahead of time and cook it the next day?
You sure can! Just follow all the recipe steps below but then instead of putting your meatloaf in the oven just wrap it up in aluminum foil or place it in an airtight container until the next day when you're ready to cook it.
How long will cooked meatloaf last in the refrigerator?
As long as it's stored properly cooked meatloaf will last at least a few days in the refrigerator. Once you're ready to eat that delicious leftover meatloaf just pull it out of the refrigerator and heat it back up!
How to reheat leftover meatloaf:
Sure, you can reheat your leftover meatloaf in the microwave, but if you really want it to taste as good as when you first made it I'd recommend reheating it in the oven. To reheat your meatloaf in the oven just preheat your oven to 250°, place your meatloaf in an oven-safe baking dish, add 1 tablespoon of water, cover the dish with aluminum foil and bake your meatloaf for 25 minutes or until it's hot all the way though.
Any time you reheat leftover food the moisture in that food will evaporate, so if you're reheating something that isn't meant to be moist in the first place that's exactly what you want. With meatloaf on the other hand you want that moisture, which is why I recommend adding the tablespoon of water to the baking dish and then covering it with aluminum foil to trap in the moisture.
Can you freeze leftover meatloaf?
You can absolutely freeze leftover meatloaf! To freeze your cooked meatloaf just wrap it up nice and tight in aluminum foil or place it in an airtight container and you'll be able to freeze it for at least a few months. Once you're ready to eat it just thaw it in the refrigerator overnight and then follow the reheating instructions above!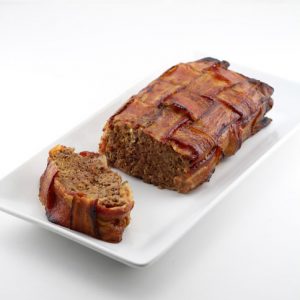 Bacon Wrapped Meatloaf Recipe
Nick @ DudeFoods.com
Are you tired of boring, traditional meatloaf? Then try this recipe for bacon wrapped meatloaf instead! I guarantee you'll love it!
Ingredients
1

package (16 ounces)

bacon

2

lbs.

ground beef

2

eggs

1

onion

diced

1/2

cup

breadcrumbs

1/2

cup

ketchup

Salt and pepper

to taste

1/3

cup

ketchup or BBQ sauce to be used as a glaze
Instructions
Preheat oven to 350°F

Weave all the slices of bacon together.

In a large bowl combine all remaining meatloaf ingredients and mix well.

Place meatloaf mixture on top of bacon weave and form into a loaf.

Roll bacon weave around meatloaf and flip over so the ends of the bacon are tucked under the bottom of the loaf to prevent curling while in the oven.

Bake for 1 hour.

Remove meatloaf from oven. Spread ketchup or BBQ sauce evenly over top. Return to oven; bake an additional 15 minutes or until internal temperature reaches 160°F.