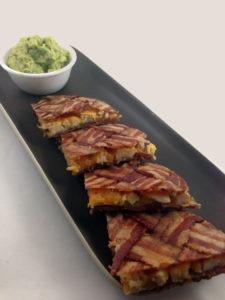 Hormel recently sent me a bunch of bacon — 12 pounds to be exact — and this Bacon Weave Quesadilla is what I did with the first two pounds of it.
Actually, I should clarify that a little, the two bacon weave "tortillas" that I made only totaled about a pound and a half, but when you're cooking with bacon you're obviously going to eat some along the way, and that's where the extra half pound went.
For the bacon weave tortillas I started off by cooking two large bacon weave squares and then placing a bowl over each one and tracing around it with a knife to create a circle. The trick with these bacon weaves is to cook them to the point where the bacon sticks together and is able to be cut, but you don't want to cook it too much or when you add your quesadilla ingredients and finish cooking it your bacon will burn.
The cooking time will vary depending on which type of bacon you use and how thick it is, but for my original two bacon weaves I just cooked them in the oven at 400° for about 15 minutes. Then, after cutting them into circles, I added some chicken and cheese to them and fried my Bacon Weave Quesadilla in a pan on my stove for about five minutes. Completing my meal was a bowl of fresh homemade guacamole.
Overall I think that this was my favorite bacon weave creation to date. It was completely and utterly delicious. You know what though? Maybe quesadillas just aren't quite your thing, and in that case you could also incorporate a similar bacon weave concept into Bacon Weave Pizza, a Bacon Weave Grilled Cheese or even a Bacon Weave Breakfast Burrito.