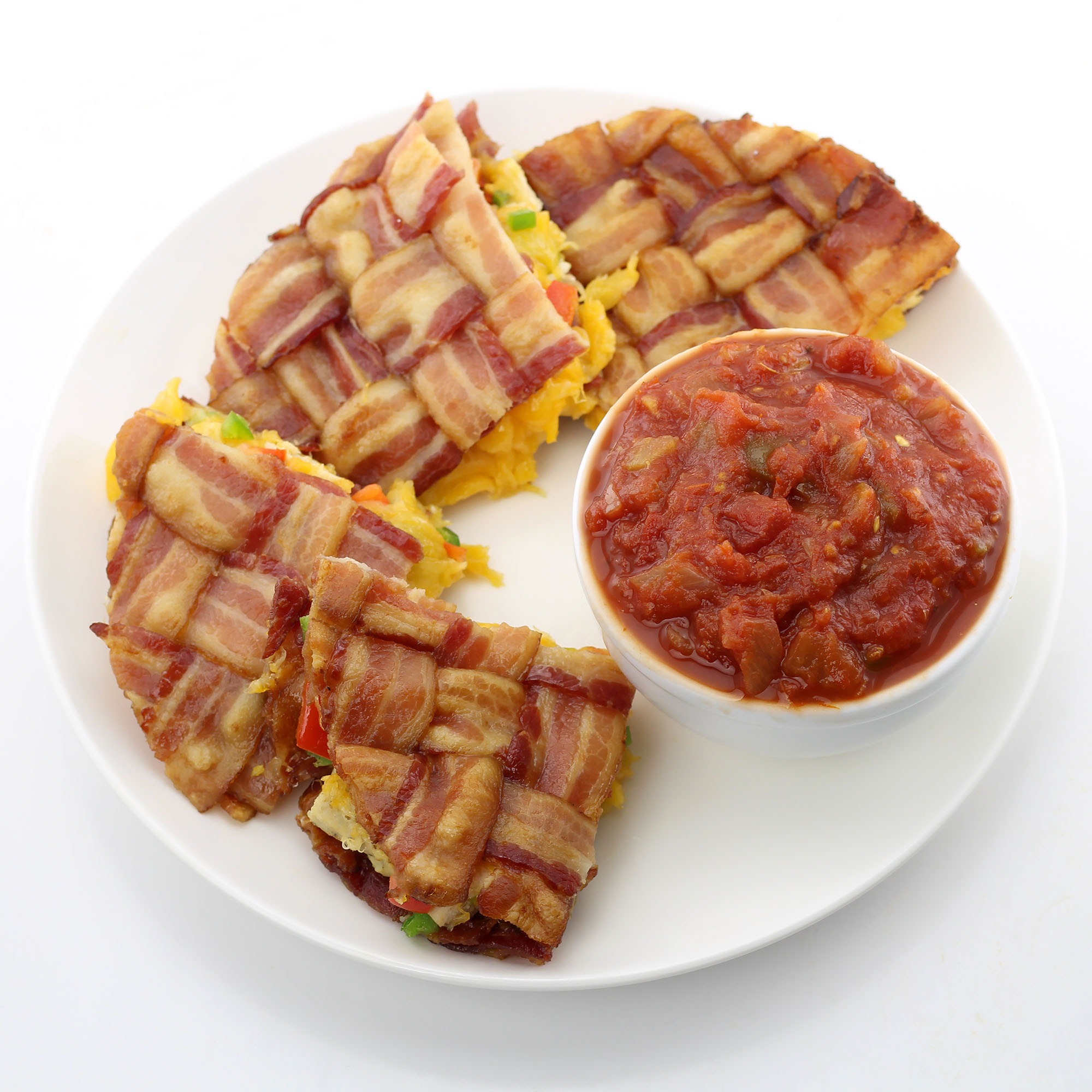 I heard that you can lose a ton of weight by following a keto diet while still basically eating as much as you want so I figured I'd give it a try.
You obviously can't eat tortillas while following a low carb diet, so what was I supposed to do when I was a mere 12 hours into this new lifestyle and wanted a quesadilla? Well, I suppose I just could have gone to the grocery store and purchased some low carb tortillas, but where's the fun in that?
What is fun is taking an absurd amount of bacon, weaving it into a couple giant squares, baking them in the oven, cutting them into circles and using those two circular bacon weaves as tortillas for a quesadilla instead.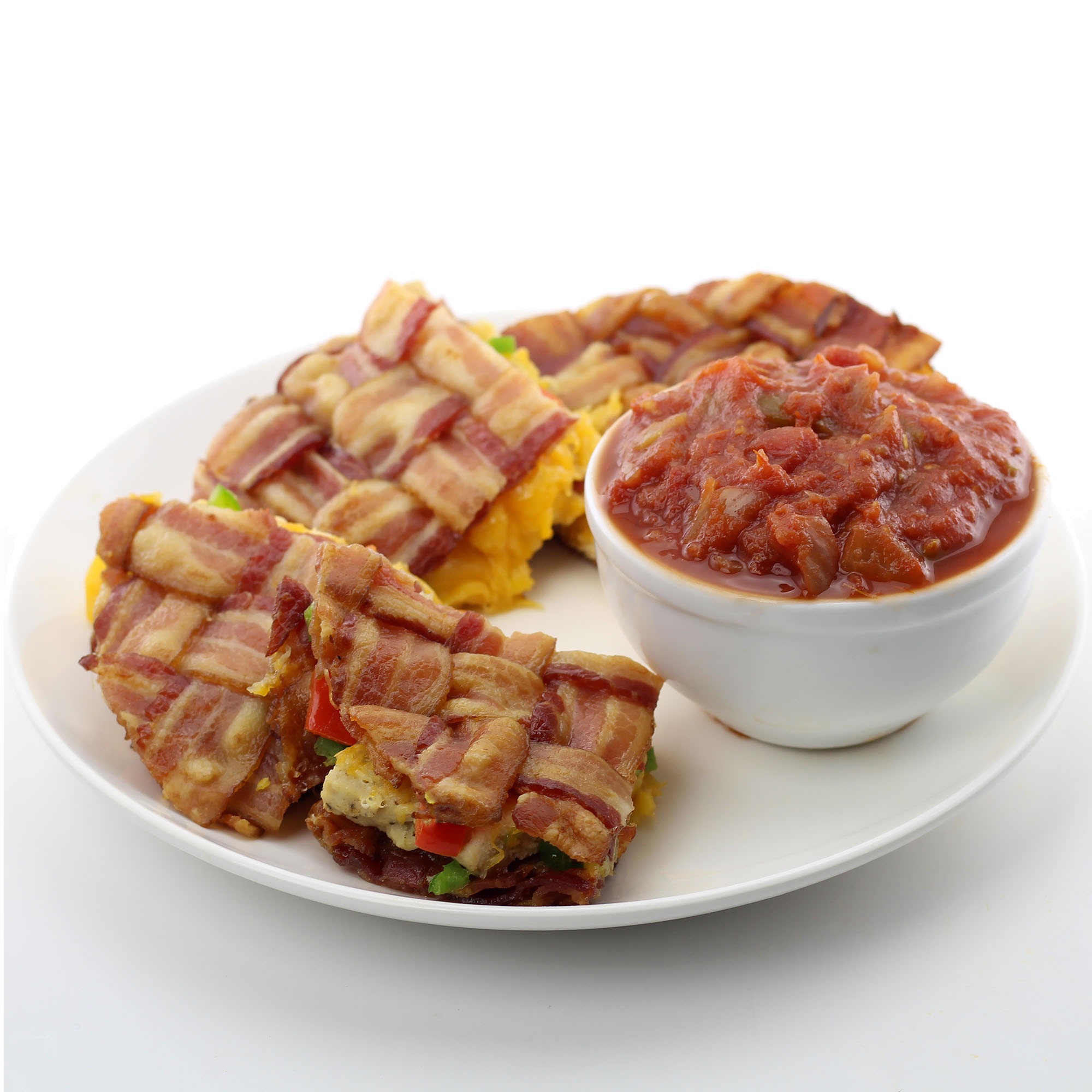 The steps are the same ones I followed from back when I made my Bacon Weave Breakfast Tacos, which themselves were just a breakfast version of the original Bacon Weave Tacos that I made way back in 2013. Rather than hanging them over kabob sticks and throwing them back in the oven to form them into a taco shell shape though I just took the two circular bacon weaves and used them as my tortillas.
I filled my quesadilla with a three cheese blend, diced green peppers, diced tomatoes topped it with salsa. It was the perfect combination to go along with almost two pounds of bacon.
Is eating 32 slices of bacon in the form of two tortillas healthy? Probably not. Will it help me lose weight because technically it's keto? Absolutely!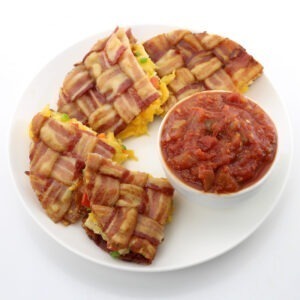 Bacon Weave Quesadilla Recipe
Nick @ DudeFoods.com
This quesadilla that uses bacon "tortillas" is perfect if you're following a low carb or keto diet!
Ingredients
32

slices

bacon

Your choice of filling

I went with a 3 cheese blend, chicken, diced green peppers, diced tomatoes and salsa for dipping purposes.
Instructions
Line 8 slices of bacon vertically side by side.

Fold back every other bacon strip and lay a slice of bacon perpendicular to the original 8 strips. Repeat this step until your entire bacon weave is done, alternating which strips go over and which strips go under the original 8 bacon strips. If this sounds confusing at all just watch the video.

Bake the bacon weave in your oven for 15 minutes at 350°.

Remove the bacon weave from the oven, pat down with paper towels to remove excess grease, place an upside down bowl over the bacon weave and trace around the bowl with a knife so you're left with a circular bacon weave.

Repeat steps 1 – 4 again so you have a second circular bacon weave. Or, just put both bacon weaves into the oven at the same time.

Lay one of your circular bacon weaves down in a pan or on a skillet over medium heat, top with your choice of quesadilla filling and add the second circular bacon weave.

Cook for 3 minutes per side or until your cheese is melted and your bacon reaches your desired level of doneness.