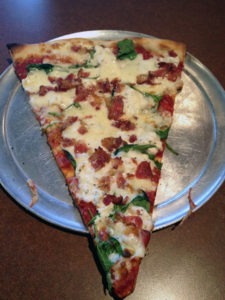 I've been a loyal Classic Slice customer ever since they opened the doors of their first location almost five and a half years ago. In that span I've tried every single type of pizza that they offer, but my go-to slice when I eat there continues to be their Popeye pizza, which consists of bacon, spinach, white sauce and ricotta cheese. Honestly though, every other slice I've ever had there has been great as well.
I'm not really sure why I've never written about Classic Slice until now, but the main reason probably has something to do with the fact that anytime I'm there I devour my gigantic slice of pizza in about two minutes, and until now I've never even paused long enough to snap a few pictures of my food.
A couple of my other Classic Slice favorites include the Meatalliza pizza (meatballs, sausage, pepperoni and bacon) and I'm Feta Up!!! (spinach, black olives, artichokes and feta cheese.) Not a meat eater? Classic Slice has you covered with one of their three vegan pizzas like their Anne Curry pizza (curry sauce, broccoli, spinach, mushrooms, tofu and tomatoes.)
If you like pizza and live in Milwaukee I'm sure you've already eaten at Classic Slice, but on the off chance that you haven't you owe it to yourself to stop in to either their original Bay View location or their new location on the east side that opened in January of 2011.