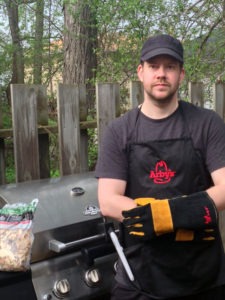 Last week I wrote about the new Smokehouse Brisket Sandwich from Arby's and mentioned how they also sent me everything I need to make my own brisket at home including wood chips, an apron, gloves, a thermometer, a sauce brush and an American Express gift card so I could purchase some meat. So, this past weekend I attempted to do just that, smoke my own brisket.
I had a pretty busy weekend already, with a wedding to attend on Friday night and a Milwaukee Brewers baseball game — plus some major tailgating and drinking to take care of — on Sunday so I set Saturday afternoon aside for my little brisket experiment.
Well, I guess I never knew how much work really went into making a good brisket. I mean, Arby's smokes theirs for 13 hours, but investing that much time in some brisket would literally take away all the free time I had left this weekend so I thought that maybe I could just smoke my brisket for only a couple hours.
Well, my brisket was a disaster. It didn't look good at all and wasn't even picture worthy. Maybe if I had more time it would have been better, but honestly, it just isn't worth the effort as long as Arby's is still selling their Smokehouse Brisket Sandwich, so rather than waste any more of my weekend I just hopped in my car, drove five minutes to the nearest Arby's and ordered two more of their sandwiches. Thanks Arby's!
Also, Arby's will be hosting a Brisket Twitter Party this Thursday, May 15, from 8-9 p.m. ET. where you'll have the chance to win prizes and learn more about the new Smokehouse Brisket Sandwich. You can participate by using the #BrisketIsBack hashtag.
Oh yeah, and according to Arby's I'm supposed to explain that I was paid for this blog post, but do you know what? The joke is on them because I would have written about them in exchange for the free food alone!