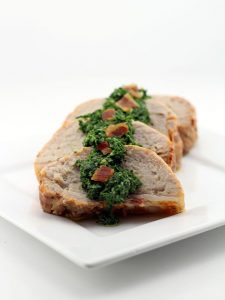 Since the beginning of 2015 I've been working with Smithfield to create recipes using their various pork products.
In case you've missed them you can click here to check out all the different dishes I've come up with thus far.
For this most recent dish they shipped me one of their Applewood Smoked Bacon Pork Loin Filets. Officially they only asked me to use the pork loin filet, but I love their bacon and had a package of it sitting patiently in my refrigerator waiting to be fried up and eaten so I figured I'd add some of that to the dish as well.
What's great about Smithfield's Marinated Fresh Pork is that all of the prep work is done for you. The meat comes seasoned and is available in a ton of different flavors, so even if you aren't doing a single thing aside from cooking it, slicing it up and eating it you're still going to end up with a delicious meal.
So why top it with chimichurri sauce? For one, it's great on pretty much everything from steak to tacos to pork and second, much like the Marinated Fresh Pork from Smithfield it's super simple to make.
With it being summer and trying to take advantage of the fact that we've been having near perfect weather here in Wisconsin I made my pork loin on the grill in my back yard, but you can also cook it in the oven or even sauté it if you prefer that method — all the cooking directions are right on the package.
With this recipe you could even slice it into medallions prior to cooking to speed up the process. Then again though, even without doing that it's ready in under 30 minutes anyway so it's not like you need to spend all night on dinner either way….
If you want to try this Applewood Smoked Bacon Pork Loin Filet With Bacon Chimichurri Sauce for yourself the ingredients you'll need and directions are listed below! If by chance you don't finish all your pork loin — which should be nearly impossible with how amazing it is — I'll be following up this recipe with a second one tomorrow that uses the leftovers. In the meantime you can find a ton more recipe ideas at Smithfield.com/RFRF or Facebook.com/CookingwithSmithfield.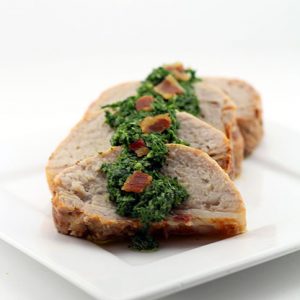 Applewood Smoked Bacon Pork Loin Filet With Bacon Chimichurri Sauce Recipe
Nick @ DudeFoods.com
There's no better topping for your pork loin filet than a bacon chimichurri sauce!
Ingredients
1

Smithfield Applewood Smoked Bacon Pork Loin Filet

6

slices

Smithfield bacon

1

bunch

fresh flat leaf parsley

1

bunch

fresh cilantro

1

garlic clove

3/4

cup

extra virgin olive oil

1/4

cup

red wine vinegar

2

teaspoons

lemon juice

1

teaspoon

black pepper
Instructions
Cook pork loin filet and bacon according to the directions on the package.

Place parsley, cilantro, garlic, bacon, and pepper into a blender or food processor and blend until finely chopped.

Transfer mixture to a bowl and stir in olive oil, red wine vinegar and lemon juice.

Slice the pork loin filet across the grain and top your pork medallions with bacon chimichurri sauce.