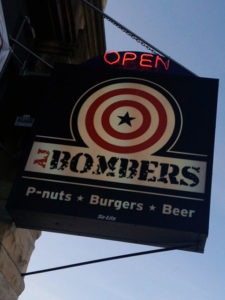 I'm pretty sure that I'm the last person in Milwaukee to have finally eaten at AJ Bombers. I even have plenty of friends from out of town who have been there multiple times, yet my first visit wasn't until a few weeks ago.
Why did I wait so long to finally stop in? There really isn't one specific reason, but after seeing them mentioned non-stop on Twitter, hearing what seemed like everyone I know rave about them and watching them win the Milwaukee episode of Food Wars it seemed like there was so much hype surrounding the restaurant that I felt like no matter how good the food was it just wouldn't live up to my expectations. It's the same reason that to this day I've still never seen any of the Star Wars movies.
I finally stopped in with my buddy Allen on a Saturday night around 7pm and was sort of bummed to hear that there was a 45 minute wait for a table. We actually considered going somewhere else instead, but ended up scoring a couple seats at the bar after about five minutes or so. I'm definitely glad we decided to stay.
When it came time to order I decided to try the Barrie Burger, which is a 1/4 pound patty topped with bacon, American cheese and chunky peanut butter. I know that there are a lot of people who think that the peanut butter / bacon combination is crazy, but anyone who has ever had an Elvis sandwich should already know how perfectly these two foods go with one another.
I also ordered their Wisconsin Cheddar cheese curds, which were easily some of the best cheese curds I've ever had. How come no one ever told me how great their cheese curds are? It's funny because they're a lot lighter color-wise than most other cheese curds, so at first I just though they were undercooked, but that wasn't the case at all. The chipotle ranch dipping sauce that came with them was a little too spicy for my liking, but when I swapped it our for some regular ranch dressing they were absolutely perfect.
Would I eat there again? Absolutely if the wait was short, but Milwaukee has way too many other awesome burger places to wait any longer than ten or fifteen minutes at any of them. Then again, I'm probably one of the most impatient people I know. Now if you'll excuse me I've got six Star Wars movies to catch up on!