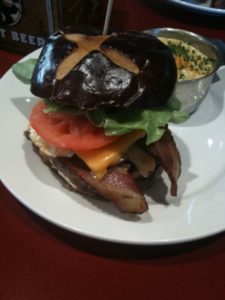 There's been a big gourmet burger craze taking over the country these past few years and Milwaukee has been no exception. When Stack'd Burger Bar opened a little over a year ago Milwaukee already had a pretty wide selection of great burger places thanks to places like Sobelman's and AJ Bombers, but Stack'd certainly seems to be holding their own.
I'm a sucker for eggs on burgers (or eggs on anything for that matter) so when I visited Stack'd I went with the Hangover Stack. This burger includes fried onions, Nueske's bacon, aged cheddar cheese, lettuce, tomato and a fried egg. I got mine on a pretzel bun as well, which I'd highly recommend not only here, but anywhere else that offers them. I also got a side of their "Twisted Mac 'n Cheese" which I wasn't a huge fan of because it kind of just tasted like something you could buy in a box at the grocery store, but the burger more than made up for it.
Stack'd also has a pretty decent beer and wine selection, but the really great thing about them is that they use only locally grown and raised ingredients from Milwaukee brands and Wisconsin co-ops. For as many good burger places as Milwaukee has I'm definitely excited to head back to Stack'd as soon as I can.