I'm super psyched to announce that from now until the end of June I'll be working with Southern Comfort on a series of food and drink recipes.
Since I'm normally just a whiskey and Coke guy it's been pretty fun so far getting out of my comfort zone and experimenting with some new drink ideas, and I'm pretty excited to see what I come up with over the next five months.
If you guys have any suggestions for any unique whiskey-based drinks that you love make sure you send them my way because I'd definitely love to try them!
Hot Whiskey Apple Cider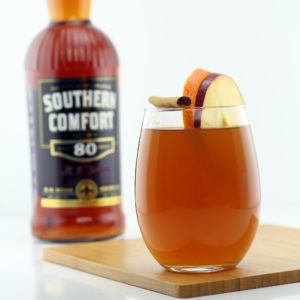 This Hot Whiskey Apple Cider — made with Southern Comfort Black — can be served cold as well, but seeing as how we're in the middle of winter and it's currently 10 degrees and snowing here in Wisconsin as I write this I opted for the warmer version.
Even if you plan to drink this chilled you're still going to want to boil the apple cider with the whole cloves, cinnamon sticks and star anise because that's what really gives this drink its flavor. After you strain it though you can always chill it in your refrigerator until you're ready to mix it with your Southern Comfort.
The Spicy Southern Mule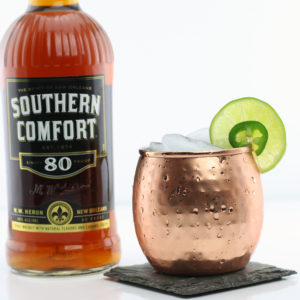 I've always been more of a whiskey fan than a vodka fan so any time I can take a drink that's traditionally vodka-based and use whiskey instead I'm game.
One vodka drink I actually do enjoy however is the Moscow Mule, which is normally made with vodka, ginger beer and lime juice. Just because I like it though doesn't mean I wouldn't enjoy it even more with Southern Comfort Black….
With Southern Comfort being from New Orleans and a lot of the food from that area having a bit of a kick to it I figured that this drink could use some of that same kick as well, so I muddled a couple jalapeño slices in with the lime juice. Prior to making this drink I wasn't sure how well jalapeños and whiskey would even go together but I've gotta say, they pair pretty well!
The Bacon-Infused Whiskey Old Fashioned
Even though they're traditionally made with whiskey, brandy seems to be the liquor of choice here in Wisconsin when it comes to the Old Fashioned. Personally though, I've always preferred the whiskey version….
Do you know what makes an Old Fashioned even better? Using bacon-infused whiskey! Yep, by combining Southern Comfort and a little bit of bacon grease in a jar, letting it sit for a while and then filtering it through a cheesecloth or a coffee strainer your whiskey will attain that smoky bacon flavor that we all know and love.
If you don't have any sugar cubes on hand you could also make a Maple Bacon Old Fashioned and give the drink its sweetness by using 1 tablespoon of maple syrup instead.
Or, if you really want to simplify things you can substitute 1/4 to 1/2 an ounce of cherry juice — depending on how sweet you want your drink — for the sugar cube, orange slice and cherry.
You could even just drink the bacon-infused Southern Comfort on its own over ice. Don't worry, I won't judge you…
Cajun Rice and Shrimp in Cornbread Bowls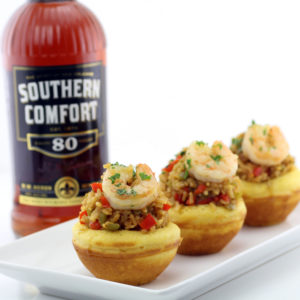 I mentioned a couple months back that through the month of June I'd be working with Southern Comfort on a series of food and drink recipes. Thus far it's only been drinks, and although those have all been amazing, I'm especially excited to share this first food recipe.
With Southern Comfort originating in New Orleans I wanted to make a New Orleans-themed dish and there isn't too much that screams New Orleans more than cajun shrimp and rice.
Shrimp and rice has been done a million times already though, so to make it a little more unique I decided to bake some cornbread bowls to eat it out of. Oh, and then I whipped up a Southern Comfort whiskey sauce to drizzle over them.
For the whiskey sauce I originally planned on going with more of a savory sauce – the type that would pair well with a steak – but opted for a sweeter sauce instead, similar to something you'd usually find served with bread pudding.
These are perfect as an appetizer or even as a meal if you just want to be able to get the perfect amount of cornbread, rice and shrimp in every single bite. I made twelve of them and within an hour I only had four left. They're that good.
If you really want to simplify this recipe you could always buy a box of cornbread mix to make the cornbread bowls with and if you want to keep things super easy you could also swap out the garlic, paprika, oregano, cayenne pepper and red pepper flakes for a few teaspoons of cajun seasoning. You're going to end up with a pretty delicious and unique meal either way….
The Southern Revolver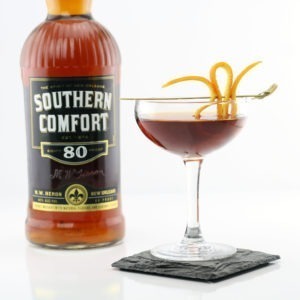 I'm a sucker for a nice, simple cocktail that tastes great and that's exactly what you get with this Southern Revolver! 
Normally made with bourbon, coffee liquor and a couple dashes of bitters I once again subbed in Southern Comfort Black like I did with the Spicy Southern Mule recipe that I shared with you guys.
The hints of fruit and spice found in Southern Comfort pair perfectly with the coffee liquor making this the perfect after dinner drink.
I know many of you may not have this coupe cocktail glass – don't worry – this drink tastes just as great in a rocks glass or whatever type of glass you have on hand! 
Traditionally the Revolver is finished off by flaming an orange peel over the drink, so if you're making one for someone else and really want to put on a show just slice off a piece of orange peel, hold it a couple of inches over a lit match above the drink and twist and squeeze the peel. Enjoy!
Spicy Southern Lemonade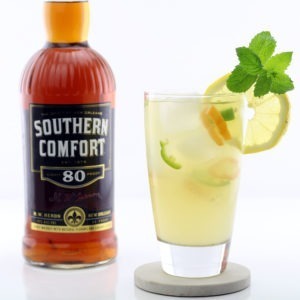 I'm pretty sure that we're finally done with winter here in Wisconsin, although we did just get a few inches of snow on April 28th. On the small off chance that we're not though I'm still trying my best to at least make it feel like summer with this Southern Comfort Lemonade.
I've been on a bit of a spicy drink kick lately, so to mix things up a little I also muddled a few slices of chili peppers in with the drink. If you're looking to make your drink extra spicy you can use habanero peppers like I did. If you don't want it quite as spicy serrano peppers work great. Or, if you just want a small amount of kick you can use a couple jalapeño slices. I also added a splash of sparkling water to give the drink some carbonation.
So, cheers to spring and summer and the hope that here in Wisconsin we'll have at least four or five months to enjoy this drink before it's no longer warm outside anymore. Then again, I have a feeling that I'll be enjoying this drink year round from here on out….
Southern Comfort Burgers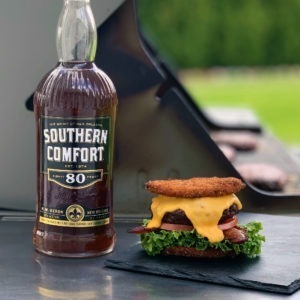 I've made a ton of burgers in my life and I've gotta tell you, these Southern Comfort Burgers are probably my favorite yet!
My original plan with these was to make either a Southern Comfort glaze to brush the burgers with as I grilled them or to top them with a Southern Comfort Cheddar cheese sauce. After messing around in my kitchen for a while and coming up with a glaze and a cheese sauce that both turned out amazing though I decided to do both!
Now, with the Southern Comfort glaze and the cheese sauce the burgers would have been perfect already just served on a regular hamburger bun, but I wanted to step up that aspect of the burgers as well. With Southern Comfort originating in New Orleans and fried green tomatoes being a staple of Southern cuisine I decided to use those instead. It was a wise choice on my part as they made the perfect buns for this burger.
Even if you don't follow this complete recipe you could always make the Southern Comfort glaze for your burgers, or even your ribs or chicken wings. You could also whip up a batch of the fried green tomatoes and pair them with one of the delicious drink recipes that you can find right on this page like the Spicy Southern Lemonade. Or, you could use the Southern Comfort cheese sauce to top macaroni noodles with. Actually… that's a great idea! Alright, gotta go! I'm gonna make some Southern Comfort macaroni and cheese!
The Southern Mojito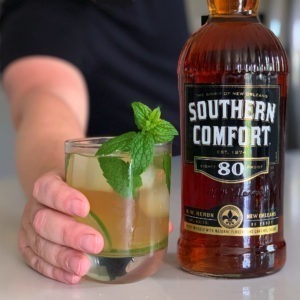 So you know when I made my Southern Comfort version of a Moscow Mule, I mentioned that I always love when I can take a drink that's traditionally vodka-based and use whiskey instead? Well, the same goes for swapping out rum for whiskey as well!
In this version of a mojito, mix Southern Comfort Black with lime juice, simple syrup, mint leaves and club soda to make the perfect summertime cocktail. If you're looking for a drink to pair with those Southern Comfort-themed burgers that I shared earlier this month this is it!
If you want to make your own simple syrup you can add equal parts sugar and water in a saucepan, heat it until it starts simmering and then whisk it until the sugar is dissolved. After that you can store it in an airtight container in your refrigerator for a few weeks and use it as needed. If you don't have simple syrup or don't want to make your own, you can also substitute 2 teaspoons of extra fine sugar for the 1/2 ounce of simple syrup in the recipe.