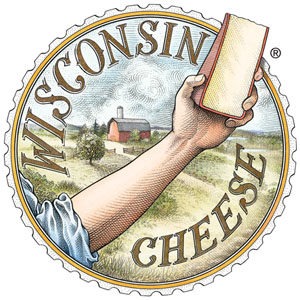 You may not be aware of this, but April is National Grilled Cheese Month, and to help celebrate that fact the Wisconsin Milk Marketing Board is giving one lucky DudeFoods reader a gift basket filled with delicious Wisconsin Cheese as well as some bread from La Brea Bakery.
Which cheeses are included in the gift basket is a total mystery to me, but if it's anything like the one they just sent me a couple weeks back you definitely won't be disappointed!
Want to win? All you need to do is check out the Grilled Cheese Month issue of the Wisconsin Cheese online magazine, Grate. Pair. Share. and then leave a comment below letting me know what your favorite grilled cheese recipe from the issue is.
I've embedded the magazine below to make it easy for you guys, but you can also access it by clicking here. I'll pick one random winner a week from today on Monday, April 15th. Good luck!
Oh, and if you're wondering what my favorite recipe is it would probably have to be the Apple French Toast Grilled Cheese. Seriously, how amazing does that sandwich look?
Update: 4/15/2013 – Congratulations to Rene who won the gift basket!