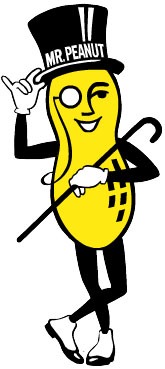 You may or may not be aware that today is National Peanut Day, but in addition to that it also happens to be the birthday of Mr. Peanut, who is the lovable mascot for Planters Nuts.
To help celebrate, Planters was nice enough to give me a gift basket filled with various Planters peanut products, a t-shirt, a water bottle and other assorted Planters swag to give away to one lucky DudeFoods reader.
What to win? All you have to do is leave a comment on this post with the answer to the following question. Mr. Peanut is spending his year touring the U.S. in his new Nutmobile. What's he calling his tour?
Need a hint? You can find the answer by going to Mr. Peanut's Facebook page and clicking the "Planters Tour" tab. This Friday, September 16th I'll pick one winner at random from all the correct entries to win the gift basket. Good luck!
Oh yeah, and here are some interesting peanut facts that I recently came across courtesy of the National Peanut Board:
The average American consumes more than six pounds of peanuts and peanut butter products each year.
It takes about 540 peanuts to make a 12-ounce jar of peanut butter.
Adrian Finch of Australia holds the Guinness World Record for peanut throwing. He launched a peanut 111 feet and 10 inches in 1999 to claim the record.
The average child will eat 1,500 peanut butter and jelly sandwiches before he/she graduates high school.
Peanuts account for two-thirds of all snack nuts consumed in the USA.
Arachibutyrophobia is the fear of getting peanut butter stuck to the roof of your mouth.
Peanuts contribute more than $4 billion to the USA economy each year.
Update: 9/17/2011 — Congratulations to Sarah S. who won the Planters gift basket!