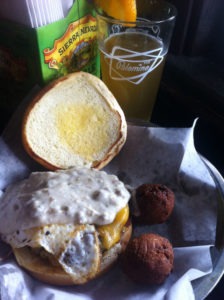 Hi, I'm Nick. Have I mentioned yet how much I love eggs on burgers? I'm pretty sure I have. You know what makes burgers with eggs on them even better though? When they also have sausage gravy on them like the Brunch Burger at Palomino does.
Palomino serves up what is by far some of the best bar food in Milwaukee. I used to live right down the street, but even though I've since moved and now live about 20 minutes away I still try to stop in as often as I can. The bar offers great food all day and night, but Saturday or Sunday mornings for brunch are when you're most likely to find me there.
Everything I've ever eaten at Palomino has been great, but my go-to brunch choice there is the Brunch Burger, which is a 1/3 pound burger topped with a fried egg, sausage gravy and for an extra $1 your choice of cheese. Each brunch sandwich also comes with one side and for my side I almost always choose the hushpuppies. The tater tots are a close second, but seriously, try Palomino's hushpuppies. Trust me on this one.