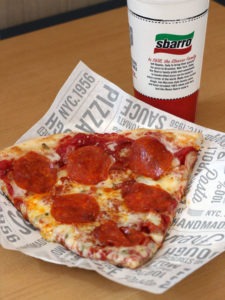 Sbarro recently launched a new limited time only X-treme Double Duo Pepperoni pizza and to help spread the word they're giving five lucky DudeFoods readers each a free Sbarro pizza — from the Sbarro location of your choice!
The pizza features dough that's made in-house daily and it's topped with two types of pepperoni — traditional as well as Hormel Rosa Grande® Pepperoni — two types of cheese — pepper jack and Romano — and a dash of oregano.
I tried the pizza a few days ago and I've gotta say, it's pretty delicious! The Hormel Rosa Grande® Pepperoni adds the perfect amount of spiciness to the pizza and pairs perfectly with the pepper jack cheese. If you want it though you'll have to hurry because it's only available until June 3rd!
Want to win one of the five free Sbarro pizzas?Just head over to this post on the DudeFoods Facebook page and leave a comment letting me know what your favorite pizza topping is. If you comment on the post and "like" it I'll give you an extra chance to win, and if you comment, "like" and share the post on Facebook you'll get three entries. I'll select five lucky winners at random a week from today on Thursday, May14th. Good luck!