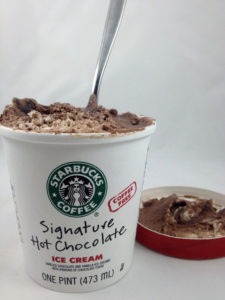 Apparently today is National Chocolate Ice Cream Day. I'm not sure who keeps inventing these food related holidays, but I'm definitely OK with any excuse to eat more ice cream.
To help celebrate, the folks over at Starbucks (who have been selling coffee inspired ice cream in grocery stores since 1995) are giving five lucky DudeFoods readers each a coupon for a free pint of the rich, creamy goodness that is their ice cream.
Wanna win? Just leave a comment on this blog post and let me know what your favorite ice cream flavor is. It doesn't have to be one of the Starbucks flavors or anything like that, just your favorite flavor in general. Although as I type this I just happen to be eating some Starbucks Signature Hot Chocolate ice cream that they sent me and it IS pretty delicious….
Do you enjoy the mixture of nuts and marshmallow that's known to the world as rocky road? Perhaps you prefer the simpleness that only a flavor like vanilla or chocolate can provide. Either way, let me know in the comments below! I'll pick five random winners at 8pm tonight. Good luck!
Update: 6/8/2012 — Congratulations to Jonathan, ronnie1260, Shockerer, Rebecca and Robert who each won a pint of Starbucks ice cream!