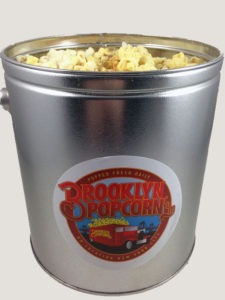 Are you a fan of popcorn? Well, then you're probably going to want to enter this contest from Brooklyn Popcorn!
What started in New York City as the world's first gourmet popcorn truck has now turned into a website that ships 23 different flavors of popcorn all over the world, and with choices ranging from classics like Cheddar and Caramel to more savory tastes like Jalapeño Nacho, Dill Pickle and Salt & Vinegar they're sure to have a flavor — or two or three or four — that you'll love!
What's great about ordering from the Brooklyn Popcorn website is that their popcorn is made fresh each day and is shipped the same day it's popped. Oh, and having just polished off a tin of their New York Mix Popcorn that they were nice enough to send me I can personally attest to the fact that this stuff is delicious!
Want to win? Just send an email to [email protected] letting me know that you want in! I'll pick a random winner one week from today! Good luck!
Update: 1/23/2014 – Congratulations to Daniel who won the $20 gift card!