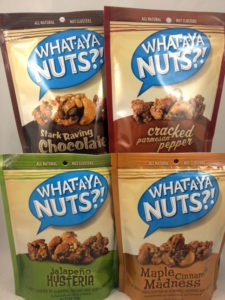 A few months ago I was sent five boxes of Snackle Mouth granola nut clusters which I proceeded to plow through pretty quickly. Then I got a jar of pecans in the mail from Treat Bake Shop, which I turned into some pretty delicious pecan bacon toffee. Most recently I received even more nut clusters in the mail, this time from What-A-Ya Nuts?!
Like Snackle Mouth they're available in some pretty non-traditional flavors — flavors like Stark Raving Chocolate, Jalapeño Hysteria, Maple Cinnamon Madness and Cracked Parmesan Pepper, which was my favorite of the four.
Whereas each box of Snackle Mouth Granola Nut Clusters features only one or two different types of nuts you can find almonds, cashews and pecans in every single bag of What-A-Ya Nuts?! I'm not saying that one is definitely better than the other, but it's just a matter of preference.
If you like a mix of different types of nuts all in one bag then these are probably more your thing, but if you prefer a little less variety you'll probably enjoy the granola nut clusters from Snackle Mouth a little more. Either way, both companies have some pretty amazing flavors so you might just wanna check them both out!