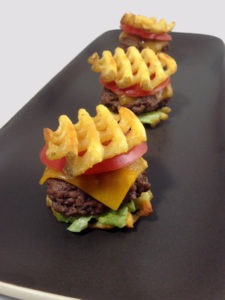 Back when I wrote about my French Fry Bun I heard a lot of responses from people complaining about how difficult it was to make. Yeah, of course it takes a little bit of effort, but that's what makes it so awesome.
If you don't have that sort of time however here's a nice alternative. I call them Waffle Fry Sliders, and based on the picture and name alone they should be pretty self-explanatory.
The only real problem I came across when making my Waffle Fry Sliders was finding decently sized waffle fries. I bought a bag of frozen fries from the grocery store and upon opening it I noticed that about 80% of them were way too small to be used as slider buns. Luckily though I still had enough for six sliders, plus a pretty big pile of leftover fries to eat on the side.
As the fries were baking in the oven I grilled up my hamburger patties, and when both of those were done it was only a matter of adding some lettuce, tomato slices and cheese before my Waffle Fry Sliders were ready to eat!