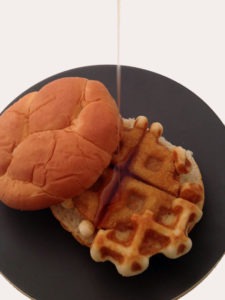 I came up with the idea for this Waffle Breaded Chicken Patty Sandwich when I was making my Waffle Breaded Chicken Nuggets, which in turn were inspired by my Chicken and Waffle Wings. In a way chicken patties are basically just large versions of chicken nuggets anyway, so throwing one in my waffle iron and pouring waffle batter on top of it seemed like the next logical step.
So, I once again preheated my waffle iron, but this time instead of nuggets I just placed an entire, cooked chicken patty right in the center of it, which I topped with a few spoonfuls of waffle batter before closing the lid and letting my waffle iron work its magic. A couple minutes later the waffle that now surrounded my chicken patty was golden brown and ready to eat!
Finishing off the sandwich was a nice soft King's Hawaiian bun, which aside from pretzel buns are pretty much the most delicious buns in the entire world. Oh and a drizzle of syrup as well!
The only sad thing about this sandwich is that as I was eating it I realized that between the Chicken and Waffle Wings, Waffle Breaded Chicken Nuggets and the Chicken and Waffle Cone that I made last year I'm running out of new ways to combine chicken and waffles. Perhaps it's time that I start working on some sort of deep fried chicken and waffles concoction!