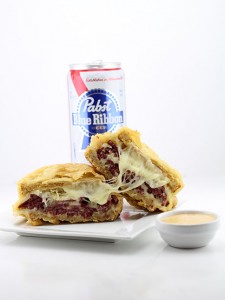 Since I've been slacking so much lately when it comes to new posts I actually thought about skipping my usual top posts of the year summary that I always do towards the end of December — not because I was too lazy to do it, but because I figured there wouldn't even be ten decent posts that were worthy of mentioning again.
Don't get me wrong, I'm aware that I definitely wrote more than ten posts total over the course of the last 52 weeks, but until I actually took a look back through them I guess I didn't realize just how many ridiculous, quality things I cooked this year.
The top post of the year — which was actually no surprise to me since the video I made for it is up to over 6 million views on Facebook — was a sponsored post I did for Foodbeast.com and Pabst where I took a Reuben sandwich, battered it in Pabst beer batter and deep fried it. I was actually asked to do something else for them for National Pizza Month back in October but again, my laziness got the best of me and I never got around to it,
Not only was the #1 post of the year deep fried, but it turns out that 8 out of the top 10 most popular posts were deep fried, which sounds a little crazy at first, but the more that I thought about it it actually sounds about right since in real life 8 out of every 10 things I eat are usually deep fried.
Anyway, without any further ado here are the most popular DudeFoods posts of the year! Keep following me on Facebook, Instagram, YouTube and Twitter to stay up to date with all my latest creations!
#2 – The Bacon Wrapped Cheese Curd Bun Cheeseburger
#3 – The Flamin' Hot Cheetos Cone
#4 – Ecto Cooler Battered Deep Fried Key Lime Slime Ghostbusters Twinkies
#5 – Deep Fried Cheese Crust Pizza
#6 – The Cheeseburger Pringles Breaded Deep Fried Burger
#7 – Deep Fried Doritos Breaded Cheese Curds
#8 – Chicken and Waffles on a Stick
#9 – The Deep Fried Doritos Breaded Qdoba Burrito