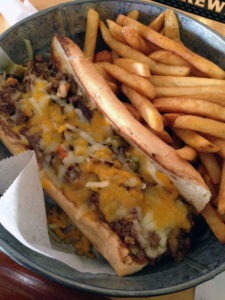 I'm pretty sure that I recently discovered my new favorite sandwich, and you can find it at Ashley's Que right here in Milwaukee! It's called the Prince and it comes packed with steak, lamb, cucumber sauce, mayo, fried onions and shredded cheese. It's absolutely delicious!
Although Ashley's Que has only been open for a few months it shares an owner with Ashley's Bar-B-Que, which for over 40 years now has been known as having some of the best barbeque around. To be fair, both locations offer The Prince, but it wasn't until I finally made the trek over to the newer location that I finally decided to try it, and I'm definitely glad I did!
No trip to Ashley's would be complete without trying some of their amazing BBQ though, so I also made sure to order a pulled pork sandwich. Not that I needed it, mind you, because after demolishing the Prince, the fries that came along with it and a side order of their mac & cheese I was already completely stuffed. Luckily, I had nothing to do for the rest of the day, so I was able to take a nap, during which I spent a full two hours dreaming about the glorious lunch that preceded it.