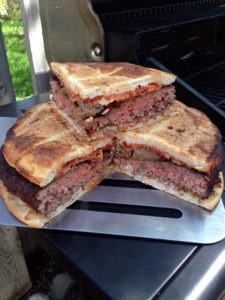 When it comes to frozen pizza I'm not usually a huge fan. There are two exceptions however, Home Run Inn and Milwaukee's own Palermo's Pizza.
Three years ago home run inn sent me a couple of their six inch personal pan pizzas which I used to create the Home Run Inn Pizza Burger. It was great, but ever since then I've wanted to use two full size pizzas to do something similar, so when Palermo's asked me if I wanted to try a couple of their new Screamin' Sicilian pizzas I decided there was no better time than now to make my giant pizza burger a reality!
The one mistake I made the first time around was not making my burger patty large enough. Granted, it started out large enough but it shrank as it cooked like all burger patties do. This time, I made sure to start off with a patty that was a good couple inches larger than the diameter of my two Screamin' Sicilian pizzas. Overall I used about four pounds of ground beef for my Palermo's Pizza Burger and when the patty was done on the grill it was a perfect 12 inches around — the exact same diameter as my two pizzas.
I've got to admit, I was a little nervous that the giant burger patty wouldn't even hold together, but as you can see from the third photo down below I luckily own a gigantic metal spatula that allowed me to flip it with ease.
In the end my Screamin' Sicilian Pizza Burger tasted even better than I expected. Obviously the fact that Palermo's uses pretty high quality ingredients in their Screamin' Sicilian pizzas played a huge part in that though. Normally when you get a frozen pizza with bacon on it you get stuck with a bunch of crappy Bacon Bits, but the Spicy Clucker Screamin' Sicilian pizza that I used as the bottom layer came with full slices of actual bacon on it.
I probably should have snapped a couple pictures of the pizzas on their own after they were done cooking, but with how psyched I was to assemble my giant pizza burger and eat it the thought didn't even cross my mind until I was already cutting it into slices and mowing down on it. Oh, and in case you're wondering how long it takes to eat a pizza burger of this caliber the answer is two full days….