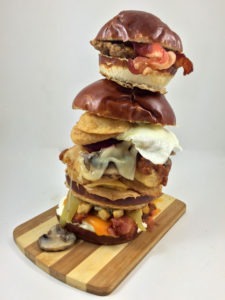 I was listening to the Nerd Lunch Podcast recently, which is easily one of my favorite podcasts out there, when they had Jess from BurgerMary.com on the show talking with them about burger toppings.
More specifically, they were imagining a world in which they were traveling through the galaxy in an experimental spacecraft when their food replicators were damaged and in turn were only to replicate a set amount of food items for infinity — or until they were rescued — one of which was a Cheddar bacon cheeseburger. If this sounds a little hard to follow just listen to Nerd Lunch episode 148 where you can hear them explain the concept a hell of a lot better than I just did.
Anyway, this led to a conversation about which bacon cheeseburger toppings they'd choose if they were limited to only five – again, due to issues with the replicator. After much discussion and back and forth they settled on American cheese, hatch green chilies, a fried egg, yellow mustard and peanut butter, which honestly sounds like it could make for a pretty unique and delicious burger. So, I decided to create the Nerd Lunch Burger for myself, with one small change. Instead of using only the five toppings they ultimately decided upon I instead opted to use every single topping the four of them had up for debate.
Wondering what the Nerd Lunch Burger all entails? Here's a list of toppings from the bottom up:
Cream cheese
A burger patty topped with Cheddar cheese and bacon
French fries
Hatch green chillies
Goat cheese
Blue cheese
A middle bun with peanut butter on it
A second burger patty topped with American cheese
Onion rings (battered, not breaded per CT's specifications)
Chili
Mushrooms (sauteed in bacon fat because according to Jess regular mushrooms are "too vegetarian")
Swiss cheese
Beetroot (this is apparently a legit burger topping in Australia, which is where Jess is from)
A fried egg
A couple more onion rings (because you can never have too many onion rings)
Mustard
Topping off the burger — literally — is a mini Cheddar bacon cheeseburger because when Pax suggested a second burger patty as an additional topping Jess questioned whether or not it should be an actual burger or just a smaller burger that sat at the very top like a hat. Clearly I had to go with both options….
There wasn't much talk about what type of bun would be served with the burger, but a pretzel bun was mentioned so I went with that because let's be honest, any time you have a pretzel bun as an option and you choose a regular bun instead you've just made a huge mistake.
So, there you have it… the Nerd Lunch Burger. It may not be the easiest thing to eat — or really even possible to eat at all without making a pretty ridiculous mess — but it sure is spectacular!