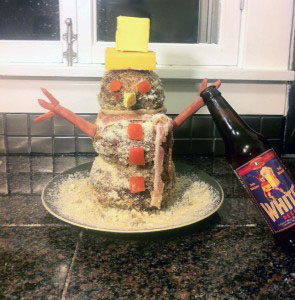 We haven't gotten much snow in Milwaukee so far this winter, so in lieu of being able to build a snowman in my front yard I instead decided to build one in my kitchen… out of five pounds of meatballs.
The meatball snowman started with a package of ground chuck that I bought from Sam's Club. I then added some eggs and breadcrumbs to the meat to help it stay together while it was being cooked, formed it into three giant meatballs and tossed them in the oven.
Once the meatballs were done cooking I went to work decorating the snowman. I originally planned to hold him together using toothpicks, but due to the sheer size of this thing I ended up using some kabob sticks that I had left over from grilling out in my back yard this past summer.
As soon as I had the meatballs stacked up I went to work decorating the meatball snowman with Parmesan cheese to give him a nice snow effect, a bacon scarf, hot dog arms, a top hat and a nose that I carved out of a chunk of Velveeta and tomato eyes and buttons.
After he was all decorated and I snapped some pictures (I threw the beer and Stoli bottles in so you could get an accurate idea of just how big a five pound meatball snowman really is) and then proceeded to make a sandwich out of half of his delicious meatball head, the bacon scarf and the Velveeta cheese hat and nose.