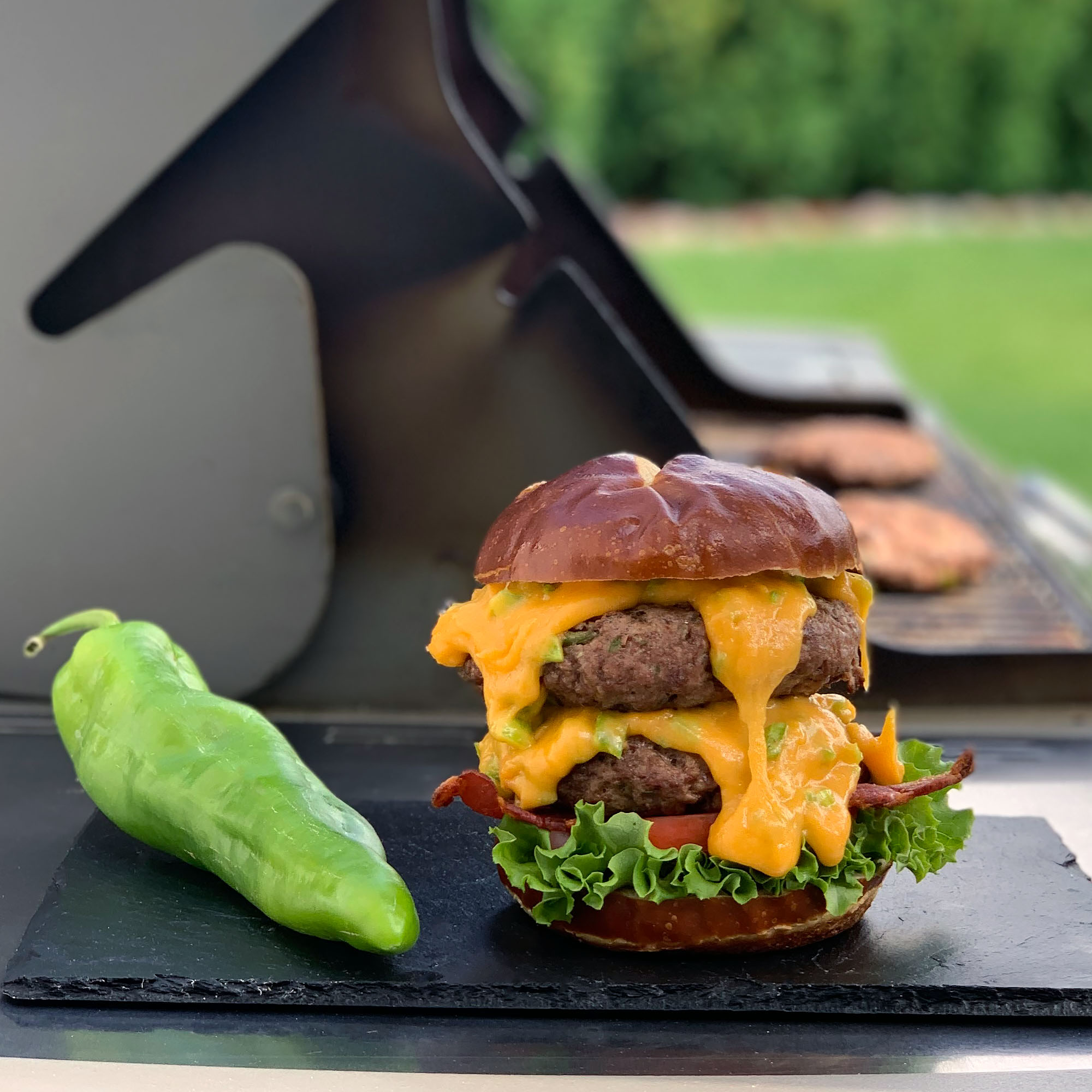 Have you ever tried Hatch Chile Peppers? If you're from the Southwestern part of the United States you probably have, but if you live in Milwaukee like I do there's a good chance you haven't. If you haven't though it's not because they aren't amazing, but more due to the fact that they're only available for a few short weeks each year in August and September.
Grown on the banks of the Rio Grande in the Mesilla Valley of New Mexico the chiles get their robust flavorful taste from the area's nutrient rich soil, intense sunlight and cool dessert nights. They sort of remind me of a more flavorful version of a jalapeño in a nice big poblano pepper body.
Whereas Hatch Chile Peppers might have been hard to come by for us Wisconsinites in the past though they're now available each fall thanks to Sendik's and their 17 Milwaukee-area locations who receive shipments of them straight from New Mexico!
Due to their limited quantities these peppers basically sell themselves and Sendik's clearly doesn't need my help to move them but they still asked me to come up with a recipe using the peppers anyway, which I was more than happy to oblige with.
With summer quickly coming to an end I've been grilling as much as possible lately so I decided that using the peppers as part of a burger recipe would be perfect so I headed to my local Sendik's and along with my Hatch Chile Peppers I picked up some ground beef, shredded Cheddar, thick cut bacon, pretzel buns and everything else I needed to make the amazing burger you see here.
I started off by dicing the peppers and mixing them right in with the ground beef. Then, while my burger patties were on the grill I whipped up a cheese sauce that included even more diced peppers. Sendik's offers both medium and hot Hatch Chile Peppers and I went with medium, but if you get the hot peppers you might not want to use quite as many as I did in my recipe.
If you want to intensify the heat and enhance the flavor of the peppers even further you can also roast them prior to using them for anything else. Or, if you don't want to roast them yourself Sendik's will even do it for you!
So, if you want to try some Hatch Chile Peppers for yourself you need to act fast because they just arrived at all Sendik's locations a few days ago and when they're gone, they're gone! For more information and a schedule of live roasting events head over to Sendiks.com/Hatch.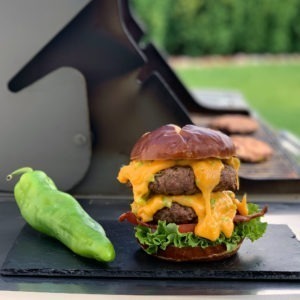 The Hatch Chile Pepper Cheeseburger Recipe
Nick @ DudeFoods.com
Kick the flavor of your burgers up a notch with this recipe that uses Hatch peppers not only in the burger patties themselves, but in the cheese sauce that tops them as well!
Ingredients
2

Hatch Chile Peppers

diced

2

pounds

ground beef

2

tablespoons

butter

2

tablespoons

flour

1

cup

milk

2

cups plus 8 ounces

Cheddar cheese

shredded

4

burger buns

Your choice of burger toppings (I went with lettuce, bacon and tomato)
Instructions
Combine ground beef with 1/2 of your diced Hatch Chile Peppers.

Divide ground beef into 4 equal sized patties, season with salt and pepper and grill until they reach your desired level of doneness.

To make the Hatch Chile Pepper cheese sauce melt 2 tablespoons butter in a saucepan over medium heat. Add 2 tablespoons flour and whisk until golden in color. Add 1 cup milk and reduce heat to low. Slowly add in 2 cups shredded Cheddar cheese and continue stirring until the sauce is smooth. Add remaining diced Hatch Chile Peppers and stir until combined. If you'd like a thicker sauce add more flour (1 tablespoon at a time) and if you'd like a thinner sauce add more milk (1 tablespoon at a time).

Assemble your burgers by topping each bottom bun with a burger, your choice of toppings, the Hatch Chile Pepper cheese sauce and finally a top bun.