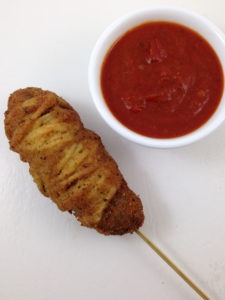 It's been a while since I've deep fried anything so I figured why not throw an Italian sausage on a stick, wrap in in spaghetti, batter it with Italian style breadcrumbs and drop it into some 375° oil. Yep, it's a Deep Fried Spaghetti Dog on-a-stick!
Want to make your own? It's super simple. Just grill up some Italian sausages, let them cool for a few minutes, shove a stick through them, wrap each one in cooked spaghetti, sprinkle some flour over them, dunk them in egg wash and then roll them around in Italian style breadcrumbs. After that it's just a matter of dropping them in your deep fryer for 45 seconds or so or until they turn golden brown. Once they're done just dip them in some marinara sauce and enjoy!
Seriously, these things were delicious! The only thing that could have possibly made the Deep Fried Spaghetti Dog any better would have been if I'd wrapped some mozzarella cheese around the Italian sausage as well like I did with the spaghetti noodles. Mmmmm… Cheesy Deep Fried Spaghetti Dogs….