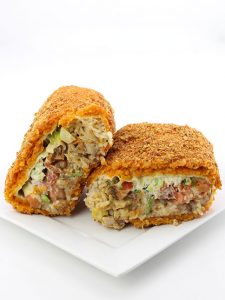 Back in November of last year I took a couple Beefy 5-Layer Burritos from Taco Bell, breaded them in Nacho Cheese Doritos and deep fried them. They were awesome, with one small exception — for having the word "beefy" right in the name of their item Taco Bell certainly doesn't include much beef in it.
I wanted to make another one recently, but this time I decided to use a burrito from the one chain that never skimps when it comes to packing theirs nice and full — Qdoba!
Coincidentally enough I also had a Qdoba gift card that they sent me about six months ago when they wanted me to try their new (at the time) Knockout Tacos. Well, I still haven't tried them — although they look delicious — but I did use the gift card to buy the grilled chicken burrito that I used for this blog post so at least I finally did something with it right?
The process to make this was basically the same as it was with the Beefy 5-Layer Burritos that I deep fried — dip it in egg, roll it around in crushed up Doritos and drop it in some 375° oil. There was one small exception though in that with how big my deep fried Qdoba burrito ended up there's no way one of these could have been served on a stick like I did with the Taco Bell version. I mean, I guess I could have used some sort of huge vampire hunter type wooden stake, but then again I'm not much of a fan of getting splinters in my fingers when I'm trying to eat deep fried burritos.
So Qdoba, I'm sorry that I never tried your Knockout Tacos — although I did drink the bottle of tequila that you sent along with the gift card — but I'm guessing that this Deep Fried Doritos Breaded Qdoba Burrito will get publicity than me just doing a basic review of some new tacos anyway.