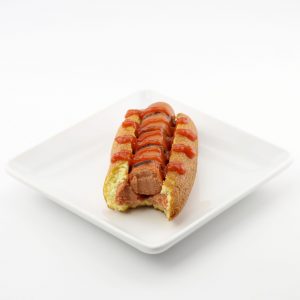 Sometimes you want a hot dog and don't have any hot dog buns, but you have flour, corn flour, sugar, baking powder, eggs and milk. So what do you do? You make corn dogs, remove the sticks, slice them in half and use them as hot dog buns!
After eating four of these hot dogs with corn dog buns I don't think I'll ever be able to eat a hot dog with a boring regular bun ever again! Think about it, you technically get to eat two hot dogs at once! Plus, nothing beats the sweet taste of golden brown corn dog breading.
I'm actually surprised that there aren't more foods out there that are dipped in corn dog batter prior to being deep fried. It looks like a bunch of people have already done corn dog / jalapeño popper mashups which is pretty rad, but I'd like to see it taken even further! I think I'd like a deep fried, corn dog breaded Big Mac, or even a corn dog batter breaded lobster roll!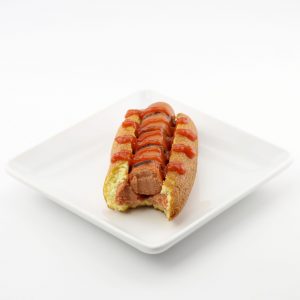 The Corn Dog Bun Hot Dog Recipe
Nick @ DudeFoods.com
Regular hot dog buns are totally played out! Try using a corn dog that's been sliced down the middle as a bun for your hot dog instead!
Ingredients
2

quarts

oil

for frying

4

corn dog sticks

or chopsticks if you can't find corn dog sticks

8

hot dogs

1

cup

cornmeal

1

cup

flour

¼

cup

sugar

¼

teaspoon

salt

⅛

teaspoon

pepper

4

teaspoons

baking powder

1

egg

1

cup

milk

Ketchup, mustard or your preferred corn dog accompaniment
Instructions
Heat oil in deep fryer or heavy skillet to 375°F.

In a bowl, combine cornmeal, flour, sugar, salt, pepper and baking powder. Stir in eggs and milk.

Take corn dog sticks and slide one hot dog onto each one.

Transfer corn dog batter to a tall glass and dip the corn dogs one by one into the batter.

Fry corn dogs in batches for 4 minutes or until golden brown.

Remove sticks from corn dogs and slice in half almost completely through so they open like hot dog buns.

Place a hot dog in the middle of each corn dog bun and top with ketchup, mustard or your preferred hot dog accompaniment.