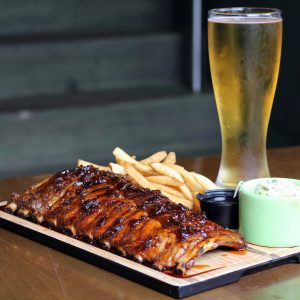 Earlier this week TGI Fridays had me and Wes — my co-host on the DudeFoods Podcast — stop by their location inside Miller Park here in Milwaukee to try out their Big Ribs.
Now, I've never tried the ribs at Fridays before, so I can't compare these size-wise to their previous ribs, but I was definitely impressed by the huge portion I received. At a time when it seems like every single restaurant is downsizing their entrées, it's nice to see TGI Fridays doing the complete opposite.
The ribs were so big in fact that when Wes offered to hold them up so I could get a picture with the baseball diamond in the background he apparently couldn't hold them for longer than 30 seconds and ended up dropping them. Thankfully the amazing staff actually thought it was funny and brought me a new rack of ribs, because I would have been super bummed if I hadn't gotten a chance to try them.
I sort of wish I would have been able to snap a photo of the ribs tumbling out of Wes's hands, but unfortunately the only one I could grab was this one of him staring down at the ground in disbelief and laughing about the fact that most of my ribs were now laying in left field.
You can order their Big Ribs with three different sauce choices — Traditional BBQ, Jack Daniel's or their new Bacon Bourbon. Being a huge Jack Daniel's fan I went with that sauce and absolutely loved it. It's not often that I say this, but by the time I was done with my meaty fall-off-the-bone ribs and the side of fries and coleslaw that they came with I was completely stuffed.
Oh, and the best part about the Big Ribs — aside from the huge portions and the amazing taste — is that Fridays is currently offering a full portion for only $12.99!