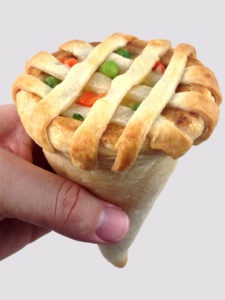 After my Apple Pie Cone turned out way better than I expected there's no way that I wasn't going to follow it up with something similar, and when I got to thinking about other types of pies that I'd like to see in a more portable form the first one that came to mind was chicken pot pie.
So, I once again headed to the grocery store and picked up a pre-made pie crust, wrapped it around a cone-form and then baked it upside down in my 400° oven for ten minutes.
Instead of spooning apple pie filling inside of my cone this time though I packed it full of diced chicken pieces, sliced carrots, peas and chicken broth before covering it with a lattice top and placing it right-side up inside of a glass and back in the oven for another ten minutes to finish cooking.
Overall the Chicken Pot Pie Cone turned out just as amazing as its apple pie counterpart. If I had to choose a favorite though I'd probably give a slight nod to this one, simply because with all the chilly weather we've been having here in Wisconsin lately there isn't much that tastes better than a nice warm chicken pot pie.