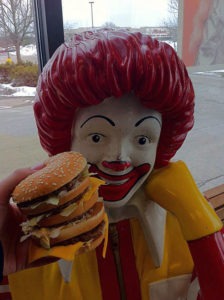 I call this burger The Bigger Mac because well, it's exactly like a regular Big Mac but larger. Two times larger to be exact!
Want to make your own? Here's how:
Step One – Go to McDonald's and buy two Big Macs. I prefer to go on Mondays when they have the two for $3.33 Big Mac promotion going on. I'm not sure if that's a nationwide deal or only regional though so your Bigger Mac might cost a little more than mine did.
Step Two – Take the first Big Mac and stack it on top of the second Big Mac.
Step Three – Enjoy your delicious Bigger Mac!