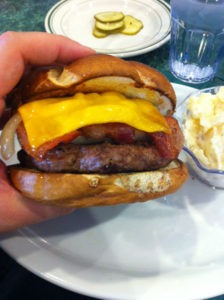 I'd never been to Meyer's before I went there recently with my family for lunch, and honestly I wasn't expecting too much. The restaurant is located in a strip mall and walking in it kind of reminded me of the typical American restaurant that my grandparents might stop at for a late breakfast after church. Not that there's anything wrong with that, but it's just a little different from most of the places I usually eat at.
Opening up the menu however I was pleasantly surprised to see that no matter what type of food you're looking for Meyer's pretty much has you covered. They must have had about 25 different sandwiches and burgers alone and that was before you even got to the seafood, dinner or pasta sections of the menu. Even with the ridiculously large menu though nothing really caught my eye until I noticed the Bacon Bratzel Burger.
How can you go wrong with a l/3 pound burger topped with a Usinger's bratwurst, bacon, sauteed onions and melted cheddar cheese on a pretzel bun? In reality the Bacon Bratzel Burger is just a tame version of the Tailgater Burger that I made last fall, but that didn't make it any less delicious. What really made the burger for me was the pretzel bun. To me pretzel buns are kind of like the ability to get an egg on your burger; if a restaurant offers you the option you should always take it.