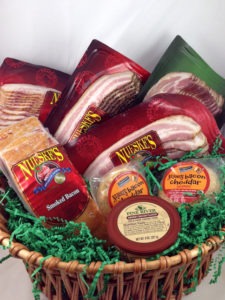 Out of all the food that has been sent to me over the past couple years to write about here on DudeFoods this most recent delivery is by far my favorite. It comes from the fine folks over at WisconsinMade.com and as you can see from the picture it's a gift basket filled with a ridiculous amount of bacon. A ridiculous amount of Nueske's bacon to be exact! If you've never had the pleasure of tasting Nueske's bacon it's pretty much the best bacon in the entire world and it just happens to come from right here in Wisconsin!
I seriously don't even know where to start when it comes to eating all this delicious cured meat, but that's not a bad problem to have at all! In addition to a tub of Bacon Cheddar Cheese Spread — which I've already managed to somehow eat half of — and two Bacon Cheddar Scones the Nueske Bacon Assortment Gift Basket also contains a pound of Nueske's Applewood-Smoked Bacon, a pound of their Peppered Smoked Bacon, 12 ounce packages of Nueske's Super Thick-Sliced Smoked Bacon and Wild Cherrywood-Smoked Bacon and a one and a half pound slab of unsliced Smoked Bacon.
Even if bacon isn't quite your thing WisconsinMade.com has a crazy amount of not only other foods from Wisconsin, but things like clothing, art, books and music as well, so check it out! As for me I'm gonna get to work making something with all this bacon!