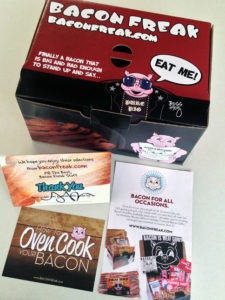 I recently received a package in the mail from BaconFreak.com. Now, as great as getting free food in the mail is, I normally don't get as excited as I did with this one. This box is right up there with the bacon filled gift basket that WisconsinMade.com sent me last year.
So what was in it? A few pounds of bacon — one of which I already used when I made Bacon Maple Crong Johns a few weeks back — and four packages of their new Pork Jerky.
Pork Jerky? Yep, the inventors of Bacon Jerky are back with their newest offering and long story short, it's delicious! I sampled all four flavors of their Pork Jerky — Maple, Western, Sweet & Spicy and Teriyaki — and although the Maple was my favorite they were honestly all pretty great.
The cool thing that I learned about the bacon from BaconFreak.com — courtesy of a card that came along with everything — is that they apparently use some sort of 2,000 year old curing process to extract the water from their bacon. What does that mean for you? Well, it means that when you cook your bacon it won't shrink a ton like most bacon does. Oh, and it also means that their bacon can last up to 90 days without refrigeration!
In addition to bacon and jerky BaconFreak.com also sells everything from clothing to pet treats, so if you're looking for anything bacon related there's probably a good chance that they have it. You can also currently save 10% off you entire order by using coupon code BACONDF at checkout. Oh, and to my new friends over at BaconFreak, if you've ever got anymore bacon you want to get rid of you know where to send it!