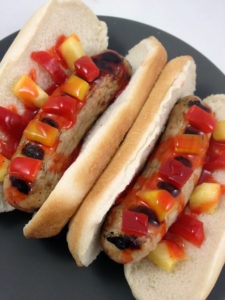 A few weeks back I got a box in the mail from Gold'n Plump. It contained pretty much every type of chicken sausage imaginable. There were Parmesan Italian Chicken Sausages, Hot Italian Chicken Sausages, Apple Maple Breakfast Chicken Sausages and Chicken Bratwursts. Man, I'm starting to sound like the guy from Forest Gump who wouldn't shut up about all the different types of shrimp….
They have a ton of chicken related recipes on their website, so my original plan was to just try out a couple of those and blog about them, but where's the fun in that? Instead, I decided to use some of their chicken brats to come up with my own recipe.
It's already been proven that the combination of diced bell peppers, pineapple and sweet and sour sauce works wonders when spooned on top of regular chicken right? I'm pretty sure that if you asked any Chinese take-out restaurant what their most popular dishes are one of their top answers would inevitably be "sweet and sour chicken," so why not do the same thing with chicken brats?
My recipe should be pretty self-explanatory, but just in case you're a little slow (man, it would have been REAL easy to throw another Forest Gump reference out right here…) I'll break it down for you. Grab some Gold'n Plump chicken brats, grill 'em up, toss them onto some buns and top them with bell peppers, pineapple and sweet and sour sauce. Trust me, your taste buds will thank you.
The folks at Gold'n Plump also happen to be running a pretty sweet contest right now where if you head on over to their Facebook page and submit a photo of yourself in all your "Grillmeister glory" you can win weekly prizes. What's even better is that one grand prize winner will win a year supply of Gold'n Plump chicken. Yep, free chicken every week for an entire year! How can you not love that!?