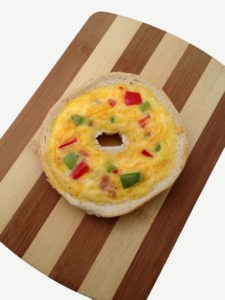 I'm always searching for new and inventive ways to enjoy breakfast, which is by far my favorite meal of the day. When it comes to breakfast foods I'd be hard pressed to pick a favorite, but if I had to choose just one I'd probably pick a nice simple egg sandwich on a bagel.
The problem I always have with bagels and egg sandwiches though is that unless you pile tons of scrambled eggs between the two bagel halves you end up tasting more bagel than anything when you bite into your sandwich. Adding too many scrambled eggs to your sandwich also causes its own issue however when you start eating only to watch eggs fall out of the side of your sandwich and onto your plate.
"There has to be a better way!" I thought to myself one recent Saturday morning as I sat at my kitchen table and shot sullen glances between the pile of eggs on my plate and the toasted bagel where they resided a mere seconds earlier. Then it came to me, why not just cook the eggs, cheese and everything else INSIDE the actual bagel!?
I started off by hollowing out a couple bagels, and then filling them with a combination of beaten eggs, shredded cheese, chopped bacon pieces and diced red and green peppers. It took a little less than one egg to fill each bagel half, but that amount will totally depend on how big your bagels are and how much you hollow them out.
I then placed my bagels on a baking sheet and put them in my 350° oven for 15 minutes until my eggs were no longer runny. Don't worry about toasting the bagels in advance either because the oven will take care of that as well.
Have you ever tried eating an egg and bagel breakfast sandwich in your car as you're driving to work? No? Because I have and let me tell you, it's an absolute disaster! Eggs everywhere! You know what isn't a disaster though? Eating Stuffed Breakfast Bagels in your car! Seriously, this is the perfect solution to all my bagel and egg sandwich woes! I may never go back to regular egg sandwiches again!