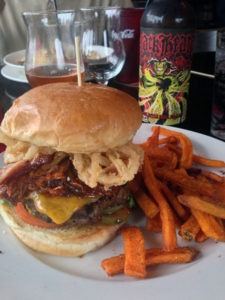 Now that Palomino had to go and change their menu and get rid of everything that I previously loved my new favorite bar food in Milwaukee comes from Stubby's Gastrogrub & Beer Bar. Not only is their food top notch, but they also have a pretty gigantic selection of amazing beers.
All the food I've tried at Stubby's has been pretty delicious, but my favorite menu item would probably have to be the Stubby's Burger, which you can see pictured to the left. The 8 oz. Angus patty comes topped with Cheddar cheese, bacon, pulled BBQ pork and onion straws. Oh, and then there are the amazing sweet potato fries. Why can't more restaurants offer sweet potato fries?
Stubby's even has a dish that uses the same Carr Valley Bread Cheese that I used when I made my 100% Cheese Grilled Cheese Sandwich and Bread Cheese Bacon Double Cheeseburger! They combine theirs with a Wisconsin brat boiled in New Glarus Moon Man Ale, red potatoes and a house made whole grain mustard aioli to create what they call The Wisconsin Temptation. It's pretty stellar.
Stubby's down have one small downfall however, which is that their food and beer menus both seem to be ridiculously outdated and contain numerous items that they don't offer anymore. It's totally understandable to order one thing only to find out that they no longer have it, but when it happens to every single person in your group of four during two straight visits it's probably time to just get some new menus printed…. My only hope is that they never stop serving their "Demonic Trio" of Deviled Eggs, because I really can't get enough of their bacon Parmesan filling!