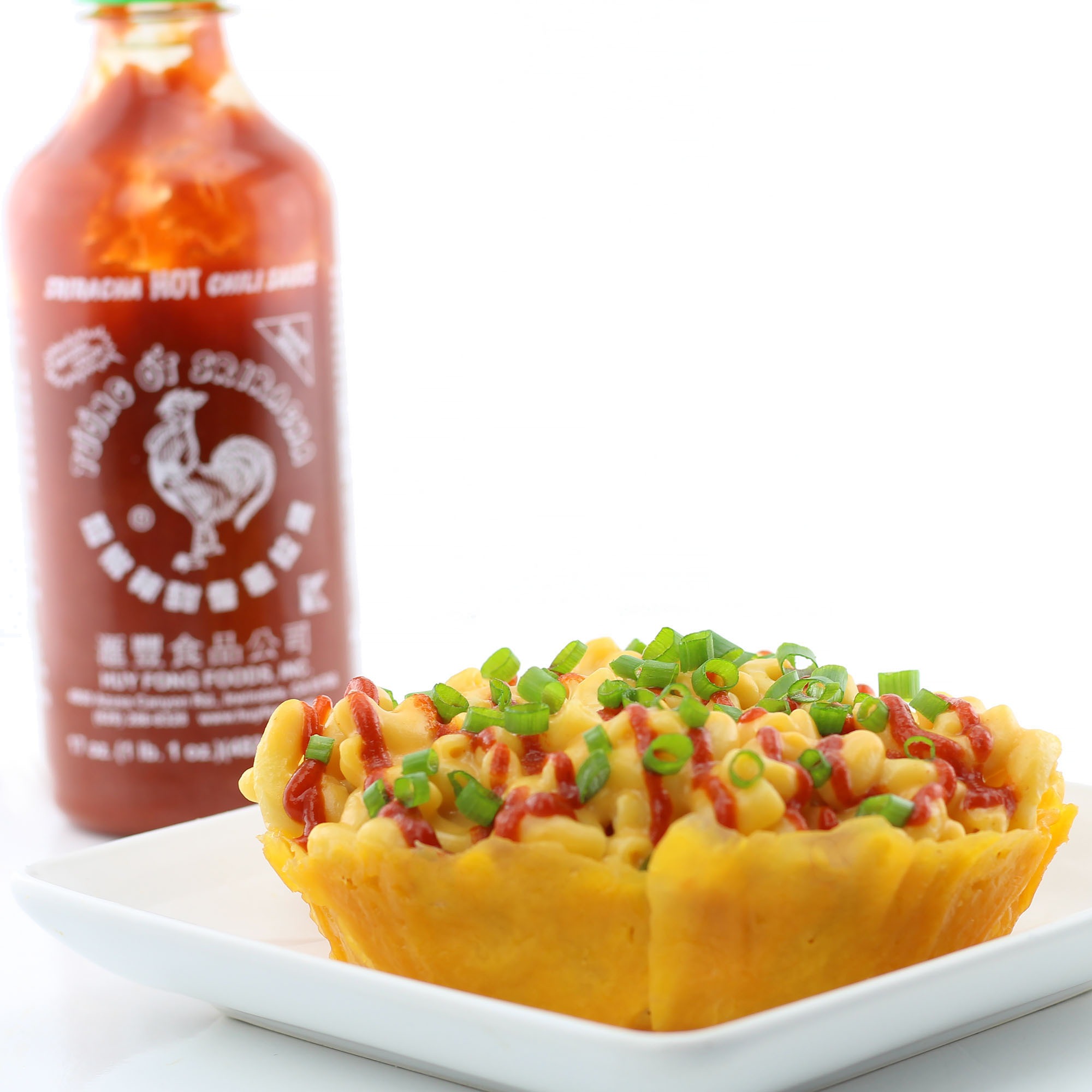 Does your macaroni and cheese need a little kick? Then give this recipe for Sriracha Mac & Cheese a try!
Not only is it super easy to make with only a few basic ingredients, but after you try it I can guarantee that it will be very hard for you to ever go back to boxed macaroni and cheese.
I've seen a lot of macaroni and cheese recipes out there that call for tons of different spices to be added to the cheese sauce but honestly, making a roux by melting butter and stirring a few tablespoons of flour and then adding milk and shredded cheese is really all you need for a great batch of homemade macaroni and cheese.
I added three tablespoons of Sriracha to my sauce, which was perfect for me, but I also tend to stay away from anything too spicy, so you might want to up that to four tablespoons if you want a little bit more of a kick. Or, just start with three, give the sauce a taste and add more if needed.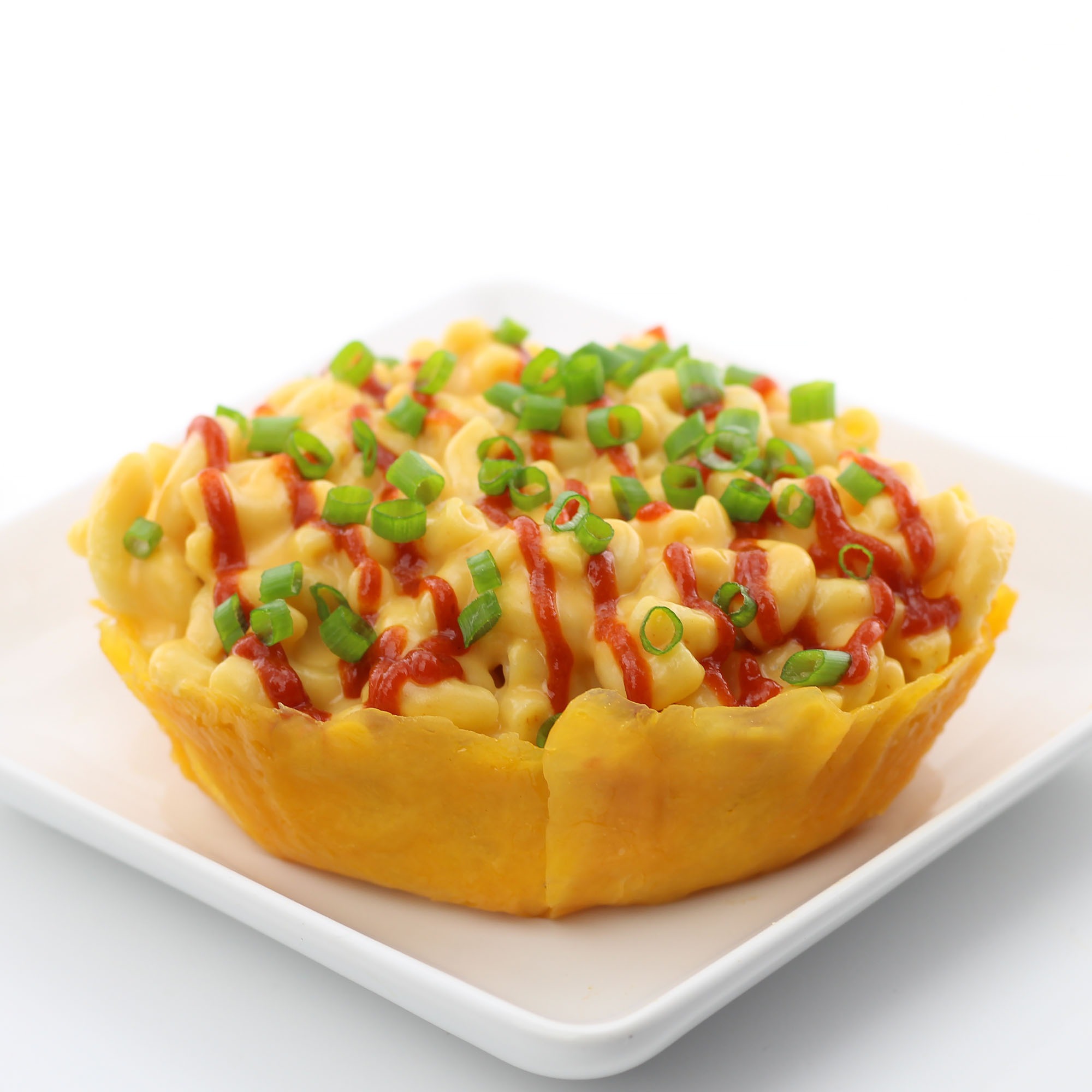 Oh, and if you're looking for a super unique way to serve your macaroni and cheese make sure you use some Folios Cheese Wraps to make cheese bowls to serve it out of. They're the same wraps I used to make Cheddar Cheese Bacon Cheeseburger Bowls and Parmesan bowls that I filled with Cobb salad and I've been hooked on them ever since I discovered them about a year ago.
I buy my Folios from a grocery store chain here in Wisconsin called Woodmann's, but Aldi and Costco both sell them as well. Just a heads up though, they're about three dollars cheaper at Aldi than they are at Costco, so if you're looking for them I'd check Aldi first.
The recipe below is enough to fill four cheese bowls — which is perfect since Folios come four to a package — so make sure to invite some friends over to eat with you when you make this one.
Or, just do what I did and eat all four of them yourself while you sit on the couch binging true crime documentaries on Netflix and then immediately start hating yourself afterwards for being such a disgusting human being and eating so much macaroni and cheese. The world is your oyster cheese bowl!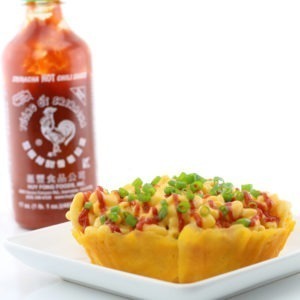 Sriracha Mac & Cheese
Nick @ DudeFoods.com
Does your macaroni and cheese need a little kick? Then try this recipe for Sriracha Mac & Cheese!
Ingredients
4

Folios Cheddar Cheese Wraps

16

ounces

pasta

4

tablespoons

butter

3

tablespoons

flour

3

cups

milk

4

cups (16 ounces)

Cheddar cheese

shredded

3

tablespoons

Sriracha

green onions

diced, to garnish
Instructions
Take one Folios Cheddar Cheese Wrap — including the piece of parchment paper it comes on — and microwave it for 1 minute.

Flip the cheese over an upside down bowl immediately after removing it from the microwave, form it around the bowl and remove the parchment paper. Repeat with the remaining cheese wraps.

Cook pasta according to the directions on the package.

In a saucepan, melt butter over medium heat and stir in flour. Add milk and reduce heat to low. Stir in shredded Cheddar cheese slowly until melted.

Stir in Sriracha, pour the cheese sauce over your cooked pasta and stir to combine.

Let macaroni and cheese cool for a few minutes and then transfer it to Cheddar cheese bowls and top with diced green onion.