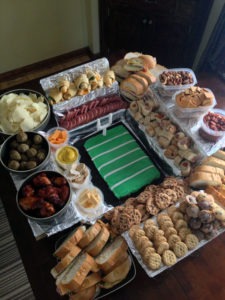 I received an email recently offering me $350 to construct and write about a "snackadium." A snackadium, for those of you who are unaware just like I was, is basically a stadium built out of snacks. Seeing as how $350 is about what I make working two days at my normal job I'd have to be pretty stupid to pass this up. Plus, who wouldn't wanna make a stadium out of snacks!? Since the promotion was sponsored by Pillsbury there was one stipulation — that I incorporate their crescent rolls and pizza crust into my creation. Not a bad deal at all!
The first thing I did when planning my snackadium was to check out Google for some inspiration. Pretty much every other snack stadium I found used guacamole for the field, so I decided to take a different approach with mine and make it out of a Pillsbury cake instead. I didn't make just any cake though, I made one stuffed with crushed up Pillsbury chocolate chip cookies! As much as I wish I could take credit for the cookies inside the cake idea it was actually suggested right on the back of the box of cake mix. Good call Pillsbury!
Once my cake was out of the oven I added some food coloring to a tub of butter cream frosting to make it nice and green and then finished up the field with white fondant stripes. The goalposts on my field were made out of pretzels that I held together with chocolate before covering them in white frosting. It's funny how small the cake looks when surrounded by all the other snacks, but in reality it was actually pretty decently sized.
Now that the centerpiece to my snackadium was complete I started work on the tiers around it by cutting up cardboard, folding it into shelves and wrapping it in tinfoil. After that I lined the shelves with various snacks including meatballs, chicken wings, chips, spinach, turkey and cheese roll-ups made with Pillsbury crescent rolls, pigs in a blanket made with Pillsbury pizza dough, cookies, muffins, cheese and sausage, pre-made sandwiches and a ton more.
For as much fun as I had building my snackadium, I think the best part was all the leftovers I had when it was done. The chicken wings, meatballs, roll-ups and pigs in a blanket were gone almost immediately, but everything else managed to last a good two or three days! I guess it probably would have been a good idea to plan the building of my snack stadium around having some friends over to watch football or something, but I actually liked having all of the leftovers for myself. Unfortunately this is also why I'll probably weigh 500 pounds some day….
| | |
| --- | --- |
| | I have partnered with Pillsbury through DailyBuzz to help promote their Crescent Roll and Pizza Crust products. I have been compensated for my time commitment to work with this product. However, my opinions are entirely my own and I have not been paid to publish positive comments. Thank you Pillsbury for this awesome opportunity to create a Snackadium! |