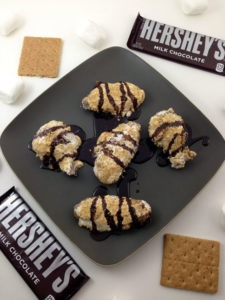 I'm always looking for new ways to enjoy chicken wings, whether it's breading them with waffles or covering them in maple syrup and bacon. When I originally came up with the idea for S'mores Chicken Wings though I thought that maybe, just maybe, I had finally gone too far. That was until I tasted them….
Now, if you're not a fan of salty and sweet combinations then these wings definitely aren't for you, but if you are then you might want to give these a shot.
I started off by grilling up some wings — I used unbreaded wings, but breaded would work as well. Once they were done I covered them in melted marshmallows and then sprinkled crushed up graham crackers on top of them. Then, just because I had to let them cool a bit before topping them with the marshmallows and graham crackers I put them in my oven for two minutes at 400°. This also got the marshmallow topping nice and gooey again. The final step was to drizzle some melted Hershey's chocolate over them.
Now, don't get me wrong, I probably couldn't sit and eat 15 of these like I can with regular chicken wings just because of how sweet they are, but considering how unhealthy a chicken wing covered in marshmallows, graham crackers and chocolate is maybe it's a good thing that I stopped after five. That doesn't mean that I won't be making them again soon though!