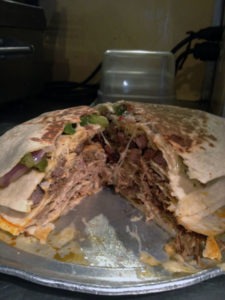 Writing a food blog definitely has its perks. The best example of this is the email I recently received from the marketing manager for all of Qdoba's Wisconsin, northern Illinois and Iowa locations asking me if I'd like to do some sort of DudeFoods/Qdoba collaboration.
For a while now it's been a dream of mine for a restaurant to just invite me into their kitchen and let me go wild with all their ingredients, so I pitched the idea to Qdoba and much to my surprise they were actually into it! We picked a date and a few weeks later I came in, threw on an apron and hopped behind the counter.
They asked me what I wanted to make and for some reason I had seven layer taco dip on my mind so I suggested that we try making a seven layer quesadilla. After all, Qdoba has those sweet industrial quesadilla presses so if you're ever gonna try to make a quesadilla that's as thick as a deep dish pizza it's pretty much the perfect place to do it. After all, my crappy quesadilla maker that I have at home can't even make a simple s'mores quesadilla without overflowing and making a huge mess.
I figured that the best way to start with my creation was just to sort jump right into it so, so I grabbed a tortilla and started piling toppings onto it. In addition to cheese I added layers of every single meat that Qdoba offers (chicken, pulled pork, shredded beef, ground beef and steak in case you were wondering). Oh yeah, plus one layer of fajita vegetables. You know… to keep it healthy….
As you can probably imagine, my quesadilla took quite a bit longer than qdoba's regular quesadillas do in the quesadilla press, but once it came out it was glorious! I think we were all a little nervous that being so thick it might not cook evenly or that the cheese in the middle layers wouldn't melt at all, but it honestly turned out perfect.
Obviously the only step left was to cut it into pieces and eat it. Everyone else used a knife and fork for their slices, but I opted to just treat it as if it were a regular everyday quesadilla and pick it up with my hands. Expecting the worst I was prepared with plenty of napkins just in case it fell apart in my lap, but it held together amazingly well. Maybe it was the fact that I ate my two pieces so fast that I didn't even really give them a chance to crumble, but this thing was so good that I really couldn't bring myself to eat it any other way than as quickly as possible.
All in all this ended up being one of the most enjoyable blogging experiences I've had thus far. It was crazy how many times Qdoba customers stopped us to ask questions like "what IS that!?" while the quesadilla was in the process of being made and then again as they saw us eating it.
I think it'd be hilarious if Qdoba ended up adding this as some sort of limited time only special menu item or eating challenge, but until then it looks like you're out of luck if you want your own seven layer quesadilla from them. I guess you could always buy seven regular quesadillas and stack them on top of one another, but at $6.99 per quesadilla that could be a bit pricey. If you REALLY wanted one though I'm sure they'd be willing to cut you some kind of deal on it.
I'd also just like to I've a special thanks to Abby, Emily and everyone else at the Roaring Fork Restaurant Group, as well as all the employees at Qdoba store number 51 for being more than accommodating while I stumbled around and got in their way during the dinner rush while making this ridiculous quesadilla. You guys rule.