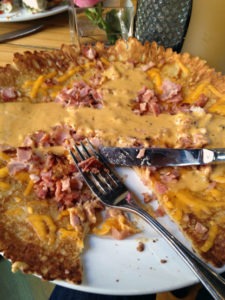 I'm still not quite exactly sure how to pronounce the name of the delicious dish that I ordered recently at Cafe Benelux, but honestly, I couldn't care less. All you really need to know is how good it is. On a scale of one to ten I'd probably give it an eleven. No wait… a twelve!
The restaurant serves eight different varieties of these giant Dutch pancakes if you stop in during brunch. Unfortunately I was there for lunch when they only have three types of pannenkoeken to choose from, but even if they offered 100 different takes on this disc of fried flour, milk and eggs I'd still feel pretty confident about my choice of the Roubaix Pannenkoek.
The 12 inch pancake is a bit thicker than a crepe, but no where near as thick as a traditional pancake. Don't let the thinness fool you though. Just one of these is more than enough to feed two moderately hungry people. The Roubaix Pannenkoek is topped with ham, Cheddar cheese and a Belgian beer cheese sauce, but their other variations run the gamut of being covered with everything from asparagus and fried eggs to granola, fresh berries and yogurt.
Basically what I'm trying to say is that regardless of how healthy (or unhealthy) you're trying to eat they probably have a pannenkoek for you! I've already made a mental list of five or six other things off of their menu (aside from their pancakes) that I'm eager to try so I can pretty much guarantee that this isn't the first blog post you'll be seeing about Cafe Benelux!