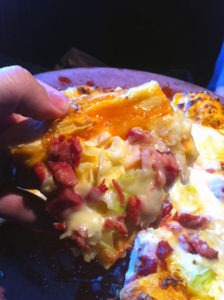 Each time I think I've tried every type of pizza imaginable I come across a new one. That was the case recently when I stopped for dinner at Mulligans Irish Pub & Grill in Franklin, Wisconsin and noticed that they offered a Reuben pizza topped with shredded corned beef, Swiss cheese, shredded cabbage and Thousand Island Dressing.
Before I got a chance to try the pizza however I decided to start with an order of their homemade beer cheese dip, which is served with vegetables and pretzel breadsticks. The baked cheese near the top of the bowl tasted good, and the pretzel breadsticks went perfect with the dip, but the rest of the cheese dip was sort of congealed and just tasted like it had been sitting around way too long.
The Reuben pizza on the other hand tasted great. The only thing holding it back from being even better was that it seemed like it was thrown together a little too quickly. For instance, the toppings weren't very evenly distributed, with a majority of the corned beef covering about a third of the pizza while the rest didn't have much corned beef at all. There were also five or six fairly large bubbles in the crust, which could easily be prevented by just kneading the dough a little more. Despite those two things I still loved the pizza though.
Feeling extra hungry? Mulligans also offers two eating challenges. The first challenge is a burger challenge where they dare their customers to finish three pounds of Black Angus Beef topped with eight slices of cheese, 12 strips of bacon, lettuce, tomato, onion, pickles and a pound of beer battered french fries. The prize if you can finish in under 60 minutes? A $50 gift card and your meal is on the house!
The second eating challenge offered at Mulligans is even crazier than the first and is comprised of eight pounds of shepherd's pie, which is made up of mashed potatoes, ground beef, cheese, parsnips, peas, carrots and celery and then topped with Guinness gravy. If you can finish all of that in under an hour you receive a $75 Mulligans gift card and the pie is free. If you can't finish it however it'll set you back $45 and your picture will be posted on the Mulligans "Weenie Wall."